This is an archived article and the information in the article may be outdated. Please look at the time stamp on the story to see when it was last updated.
LAUDERDALE COUNTY, Ala. - On Tuesday, June 28, three men tried to use the dark of the night to burglarize a shed on County Road 8 in Greenhill. Little did they know, the home's owner had them on camera.
According to the Lauderdale County Sheriff's Office, the men got away with $3,500 in tools.
They've likely unloaded the three chainsaws, hedge trimmer and hammer drill at this point, but authorities would like to figure out who they are.
And with these images now out there, hopefully your tips will lead to their arrests.
The Florence Police Department needs help locating three men.
Jimmy Allen Riley has a bench warrant for violations of drug court.
Scott Hawkins has an arrest warrant for failing to return to the Lauderdale County Work Release Center.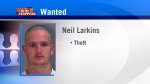 Neil Larkins remains on the most wanted list. Florence Police have an arrest warrant for theft.
If you can help solve this burglary or know where to find any one of the most wanted, call the Shoals Area Crime Stoppers tip line at (256)386-8685.
If it's more convenient for you, text the tip to 274637 (CRIMES). In the message type "tip1293" and your information.
All calls and texts to the Shoals Area Crime Stoppers are kept anonymous and worth a cash reward.