This is an archived article and the information in the article may be outdated. Please look at the time stamp on the story to see when it was last updated.
LAUDERDALE COUNTY, Ala. - State and local authorities have launched an arson investigation in the Centerhill community.
The owner has already started cleaning up his mangled mobile home, but the signs of fire are still evident. Smashed out windows and charred walls are the results of what investigators called an intentional fire.
"Once the homeowner returned and the fire was out, he went in and started examining some of his property," stated Det. Andy Corbett with the Lauderdale County Sheriff's Office. "He realized there were a number of long guns and hand guns that were missing."
The guns are worth more than $5,000. Corbett said 9 long guns and 5 hand guns went missing from the residence in the 13,000 block of County Road 33.
They said the fire happened on September 26th, around lunchtime.
"Once the fire marshal began to investigate he noticed that there was significant burn that probably resulted from an accelerant," explained Corbett.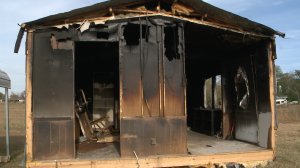 In fact investigators found multiple spots in the home where an accelerant was used to set the fire.
Detective Corbett said he's extremely bothered with the number of guns which are now on the streets.
"Any time that we get guns out on the street and especially with people of this mentality, it's a problem."
Investigators with the state and sheriff's office are hoping someone possibly saw a vehicle or person at the home that day.
If you have any information which can help authorities solve this arson and theft case, call the Shoals Area Crime Stoppers at (256)386-8685 or text your tip to 274637 (CRIMES), in the message type tip1293 and your information.
A cash reward is being offered for information which leads to an arrest.