This is an archived article and the information in the article may be outdated. Please look at the time stamp on the story to see when it was last updated.
FLORENCE, Ala. (WHNT) – Law enforcement agencies in northwest Alabama are investigating a burglary crime spree. In less than a month, three "Mom and Pop" businesses have been hit in Lauderdale County, with thieves getting away with cash from safes and ATMs.
"It's extremely frustrating," explained Investigator James Bullock with the Lauderdale County Sheriff's Department.
Since January, the sheriff's department has been following every lead they come across in the Haddock's store burglary on U.S. 20 in the Central community.
This week, the Oakland Café on CR-14 was hit in the same manner as Haddock's. Burglar's gained access to the inside of the store and destroyed an ATM.
"These guys are well prepared," said Bullock. "They're wearing masks, they're wearing gloves. So we can't put their face out on TV and someone can call and say yes, that's exactly who that is."
On the same night as the Oakland Café burglary, Florence Police got a report of D&D's Quik Mart on U.S. 20 being hit as well.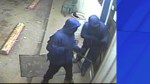 Florence Police say it's likely the same people. All three businesses are just a few miles apart.
Bullock said the suspects are likely casing these mom and pop businesses.
"Whether it's that day or several days in advance or several times, they may come in just so they can see where the cameras are and they can see possible points of entry."
Hardin County, Tennessee authorities believe the burglary suspects also hit a business in the northern part of their county.
Fortunately for investigators, they say there has been some trace evidence left at each burglary.
So Bullock said it's just a matter of time before these burglars are caught.
The Shoals Area Crime Stoppers is offering a cash reward for information which can lead to an arrest in these cases.
Their tip line number is (256) 386-8685. A tip can also be sent by text messaging "tip1293" plus your message to 274637 (CRIMES). You will remain anonymous.