This is an archived article and the information in the article may be outdated. Please look at the time stamp on the story to see when it was last updated.
LAUDERDALE COUNTY, Ala. (WHNT) -  The owners of Bonnie's Kountry Cafe in Elgin said they had a stealthy pair of thieves break in Tuesday night.
They tell Lauderdale County Sheriff's Investigators some men broke in through the ceiling, knocked out drywall and headed straight for the kitchen.
Investigators said they made off with cases of frozen burger patties and fries.
There's no surveillance footage, so they hope you may know who was responsible. Maybe someone trying to drop you a burger combo on the sly.
Russellville Police investigators are working to track down some of this week's most wanted criminals.
First on their list is Donnell Harris. They have a grand jury indictment out for his arrest for receiving stolen property in the 2nd degree.

Another grand jury indictment is out for Arthur Terry Hockaday's arrest. He's wanted for theft of property.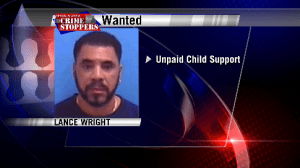 In Colbert County, investigators are working to track down Lance Wright for some unpaid child support.
If you think you recognize any of these people call the shoals area crime stoppers tip line right now. That number is (256) 386-8685.  You can also text your tips by sending tip1293 plus your tip to  274637.
All of your tips are anonymous and could be worth up to $1,000 if they lead to an arrest.