This is an archived article and the information in the article may be outdated. Please look at the time stamp on the story to see when it was last updated.
FLORENCE, Ala. – It's not often alleged criminals develop a conscience; but that was likely the case when two men saw themselves featured on Shoals Area Crime Stoppers.
Thursday nights at 10, WHNT News 19 features the Shoals Area Crime Stoppers crime of the week.
Last week, Florence police asked Shoals Area Crime Stoppers to highlight a crime dating back to July 9th.
Two men were seen entering a Walmart store in Florence and using a misplaced credit card to purchase electronics.
After racking up charges of nearly $900, the two men split in a silver Ford Focus.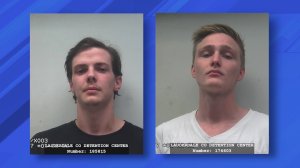 On Monday afternoon, both suspects turned themselves in to investigators.
Jacob Allen Cook and Devin Alexander Thrasher have been taken into custody, charged with illegal use of a credit card and theft of property.
Cook and Thrasher remain in the Lauderdale County Detention Center on bail totaling $2,500 each.