This is an archived article and the information in the article may be outdated. Please look at the time stamp on the story to see when it was last updated.
FLORENCE, Ala. – In January Florence police responded to a welfare check at an apartment. What they found launched a homicide investigation which remains unsolved.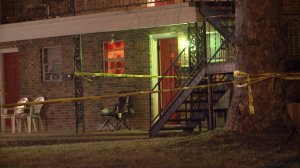 It was Saturday morning, January 21st when the case began. Florence police were called to check on Andrea Forbes at her Simpson Street apartment. When they got there Forbes was found dead.
For the past six months investigators have spent hours talking with those who knew her.
Andrea Forbes had moved to the Shoals to work in 2015.
Investigators have said this was not a random act. They believe Forbes likely knew who caused her death. The circumstances surrounding her death has been withheld by investigators.
According to investigators, how she died is only known by a handful of people including the person who caused it.
Florence police would like to bring that person to justice and give Andrea Forbes' family some closure.
Call or text the Shoals Area Crime Stoppers right now with your tips. To speak with a tip line operator, call (256)386-8685.
For those who wish to text, send the tip to 274637 (CRIMES) along with your information. Make sure to reference which case you are messaging operators about.
Your calls and text messages are anonymous and worth a cash reward of up to $1,000.