This is an archived article and the information in the article may be outdated. Please look at the time stamp on the story to see when it was last updated.
FLORENCE, Ala. (WHNT) - The thief in this picture waited until the morning hours to commit a crime.
It happened on May 8, 2014 at Chad's Payless Pharmacy in Florence.
Police say the person broke into the pharmacy and stole multiple medications.
Police say if you have any information about this burglary, you're urged to contact the Florence police department.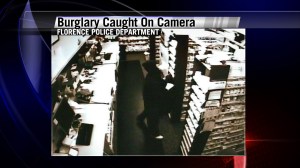 This week's most wanted list goes to the Sheffield Police Department.
We start off with David Michael Garrett
Garret is wanted for driving under the influence.
Up next is Teanna Shardae Bankhead.
Police say Bankhead had no insurance and switched an auto tag.
Last on this week's list is Wesley Adam Raines
Raines is wanted for domestic violence.
If you have any information that can help authorities catch any of the men and women in this report call the Shoals Area Crime Stoppers tip line.
Your call is anonymous and could get you a cash reward.
Shoals Area Crime Stoppers tip line: 256-386-8685.