This is an archived article and the information in the article may be outdated. Please look at the time stamp on the story to see when it was last updated.
FLORENCE, Ala. (WHNT) - Police are searching for the person responsible for breaking into cars in the northern part of the city.
Investigators believe the man was caught on camera and need the public's help in identifying him.
During the early morning hours of March 14, a dark blue Ford Escape entered the Robbins Ridge subdivision, inside is the theft suspect.
About 1:15 a.m., investigators said he broke into two vehicles parked at separate homes. They said he got-away with about $10,000 worth of golf equipment and fled the neighborhood.
Florence Police would love to have some help in solving this felony theft case.
There are a couple of people wanted by Florence Police in this week's most wanted.
Warrants have been issued for Amanda Rose Box. Officers said she is wanted for chemical endangerment of a child.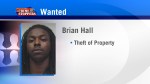 Florence Police would also like to find Brian Hall. He has arrest warrants for theft of property.
Recognize any of these people and know their where-abouts? Give the Shoals Area Crime Stoppers an anonymous call or text. The tip line is now open at (256)386-8685. You can also text your tip to 274637 (CRIMES), in the message type tip1293 and your information.