This is an archived article and the information in the article may be outdated. Please look at the time stamp on the story to see when it was last updated.
FLORENCE, Ala. (WHNT) - The guys you see in this picture have sticky fingers. Florence Police say they walked into Grogan Jewelers and stole jewelry. They entered the store on March 17, 2014 to sell silver jewelry, but police claim they left the store with more than $2,000 in silver rings. Police say they drove off in a light blue Honda.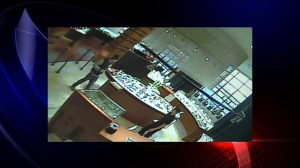 Sheffield Police Department has warrants in hand for this week's most wanted.
Authorities are looking for Bart Kelsoe. Kelsoe is wanted for domestic violence, trespassing and disorderly conduct.
Sheffield police are also looking for William Raymond Wheeler. Police want Wheeler for theft of property.
Lastly, police are looking for Zachary Shea Puckett. Authorities want Puckett for domestic violence.
If you have any information that can help authorities catch anyone that has been featured in this report, call the Shoals Area Crime Stoppers tip line. Your call is anonymous and could get you a cash reward. Shoals Area Crime Stoppers tip line: 256-386-8685.