This is an archived article and the information in the article may be outdated. Please look at the time stamp on the story to see when it was last updated.
FLORENCE, Ala. - The Florence Police Department is releasing surveillance video in hopes of identifying some possible theft suspects.
On August 11th, these three people entered the Walmart Neighborhood Market in Florence to do a little shopping. Trouble is they were using someone else's credit card.
Florence police said they need help figuring out who these folks are. At least one of them has racked up $800 worth of charges on the stolen card.
Luckily the card has been shut down, but now police would like to put one of these perpetrators behind bars.
Further south, Russellville police have several warrants to serve and need to find the people whose names are on them.
Authorities continue the search for David Blake Presley. Investigators said Presley has grand jury indictments for possession of a controlled substance and possession of marijuana.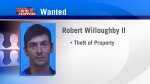 Robert Earl Willoughby II has an outstanding warrant with Russellville police. Willoughby is wanted for theft of property.
Since May, investigators have been looking for Precious Michelle White. Russellville police say grand jury indictments were handed down on White for possession of a forged instrument.
Call the Shoals Area Crime Stoppers tip line now at (256)386-8685, or text your tip to 274637 (CRIMES), in the message type "tip1293" and your information.
All contact is kept confidential and worth a cash reward of up to $1,000.