This is an archived article and the information in the article may be outdated. Please look at the time stamp on the story to see when it was last updated.
COLBERT COUNTY, Ala. (WHNT) - Investigators believe the man you see in this picture robbed the First Southern Bank in November of 2013. Colbert Count Sheriff Ronnie May believes the suspect is also responsible for a another bank robbery that happened in Lauderdale County in September 2013. Sheriff May says the physical descriptions are the same for both robberies. The man wore similar clothing, used his right hand to hold the handgun and used a plastic bag to take the money. The suspect left on foot in both hold-ups, Sheriff May believes the man knows the area.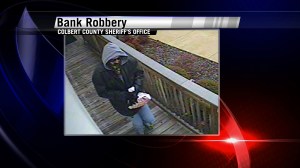 We start off this week's most wanted list with the Sheffield Police Department.
Police want Mckenzie Johnson.
Johnson is wanted for domestic violence.
Up next is Matthew James Church.
Police want Church for driving while having a suspended license.
Last on this week's list is David Reid.
Reid is wanted for driving with a revoked license.
If you have any information that can help authorities catch any of the men and women call the Shoals Area Crime Stoppers tip line.
Your call is anonymous and could get you a cash reward.
Shoals Area Crime Stoppers tip line: 256-386-8685.