This is an archived article and the information in the article may be outdated. Please look at the time stamp on the story to see when it was last updated.
COLUMBIA, Tenn. - The Tennessee Bureau of Investigation released surveillance video of missing teen Elizabeth Thomas and her accused kidnapper on Friday.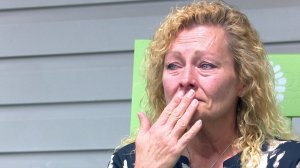 WHNT was the first to notify the woman that missing teen Elizabeth Thomas calls "Mom" of the confirmed sighting. Paige Griffith said she is hopeful this new lead will bring Elizabeth home.
"I need her. I need to know that she's safe. I need to hold her," said Griffith.
For the last 18 days she has prayed for the Elizabeth's return.
"I feel like a surrogate mother to her, and I call her my other daughter," said Griffith.
While her prayers weren't answered Friday morning, she is glad there is finally a confirmed lead. But it's what's in the surveillance video that has her even more concerned.
"Tad Cummins is striding ahead of her like he is in control of everything he is doing and obviously of her and the way she looks at him," said Griffith.
She said what others might not see in these images is that Elizabeth isn't acting herself.
"I can tell that she is taking all of her cues from him," explained Griffith.
She had some strong words for her accused abductor.
"You're not her surrogate father. You're not her grandfather. You're not her boyfriend. You're not anything to her. You just took her against her will and took her without any ones permission and you just interrupted her life," said Griffith.
She wants Cummins to know that he still has time to do the right thing.
"She's not yours and you need to bring her back," said Griffith.