This is an archived article and the information in the article may be outdated. Please look at the time stamp on the story to see when it was last updated.
SCOTTSBORO, Ala. — She can't stop, she won't stop. This mom takes her excitement to the next level every year when her kids go back to school.
This year Keshia Gardner and her husband, Andy, threw a back to school party on the family's farm, and you can see their kids sulking in the background in anticipation of their first day back on that school grind.
As Keshia demonstrates her signature jump for joy (with a touch of confetti), Andy joins in on the fun by enjoying a wee dip in the horse trough– his cigar and "World's Okayest Dad" coffee mug in hand. This was his first year participating in the tradition.
"We were very excited that Andy agreed to be in the picture with us," Keshia said. "It took some convincing but the kids talked him into it. Normally he is behind the scenes as our photographer."
And hey (or should we say hay), even the family farm animals join in on the celebration!
"We love living on the farm. The farm life really is the best life. It's hard work but the animals give us lots of laughs. From our family to yours, we are wishing everyone a great school year!" Keshia said.
Her realm of internet fame has come to her in many forms, starting with her back-to-school photo that broke the internet in 2016 with over 280,000 shares: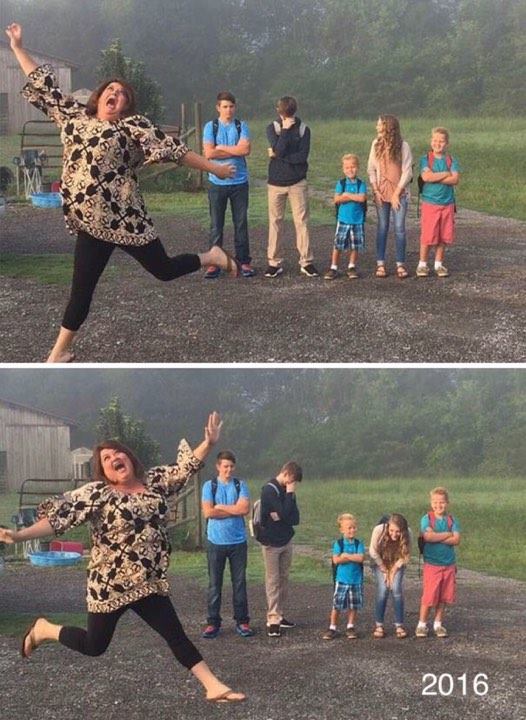 But even then, this was no new tradition for the Gardner family. Enjoy the evolution of this funny family tradition below.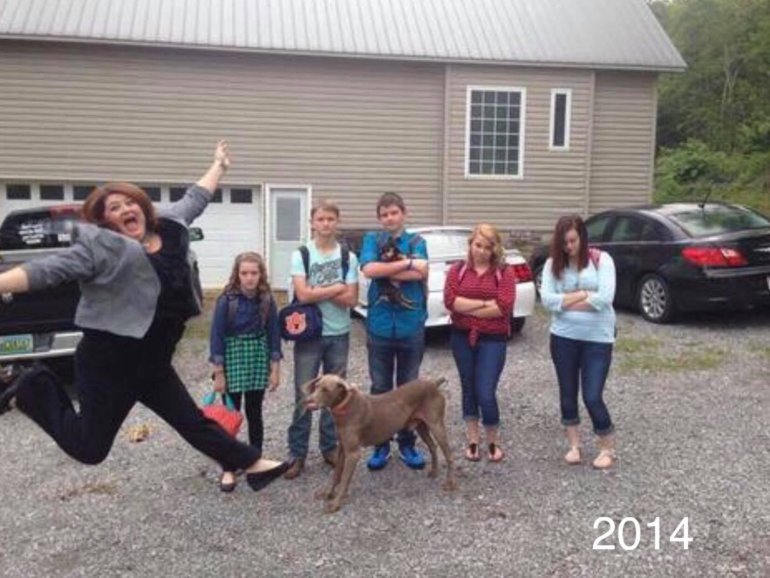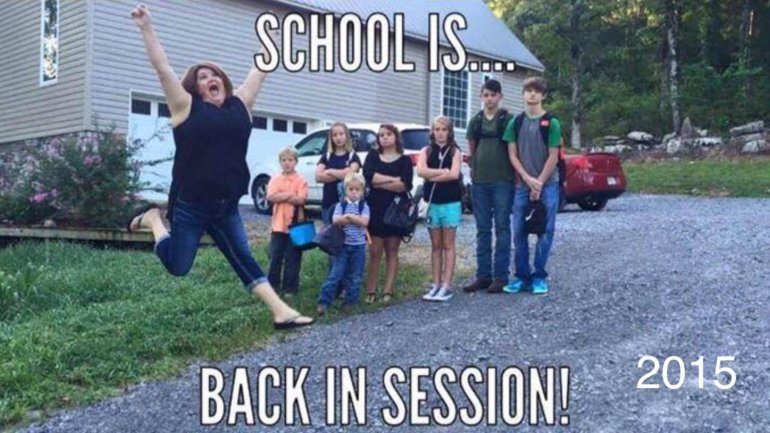 Also in 2016, Keshia created a masterpiece when she sang a spur-of-the-moment fast food-inspired parody to Adele's "Hello," and when she asked "Santa Baby" to pick up some Nyquil from Walgreens for her.
This funny mom is so much more than a silly songwriter. You may have noticed there are different children every year in her back-to-school photos. Keshia and Andy are loving foster parents, and have been for over ten years. When her social media fans learn about her heart for foster care, many of them find a purpose buried within her fun-loving and sometimes silly performances.
"I've had several people that they are blown away, and a lot of them said, 'I know that's what I need to do now is be a foster parent.' That makes me so happy because we really need to create more awareness and help these kids find forever homes," Keshia said.
Until next time– have a great school year!