This is an archived article and the information in the article may be outdated. Please look at the time stamp on the story to see when it was last updated.
HUNTSVILLE, Ala. (WHNT) – I believe the phrase 'BOOM, Shakalaka' would be absolutely appropriate here. After months of intense anticipation north Alabama's first trampoline arena opened to the public Tuesday evening.
The 26,000-square-foot trampoline arena in the Huntsville West Shopping Center was originally slated to open in April, but was stalled because of construction delays.
The wait, Huntsville friends, is over.
Thousands of square feet of trampolines, dunk basketball hoops, Olympic foam pits and slack lines? The arena is like an adrenaline mecca for jumpers of all ages — (cue the obligatory and most over-used Van Halen song of all time, please.)
"It's just really fun for the whole family," says Shakalaka Manager Brandon Echols. "From the parents down to the kids, we like to have everyone here."
Yes, even the big kids. Shakalaka is a perfect fit for gymnast and soon-to-be Buckhorn High School Senior Cassidy Romans who has aspirations to cheer for the University of Alabama.
"I was so excited when we found out they were going to have it because I've been to the one in Chattanooga so when it got here I said I have to go."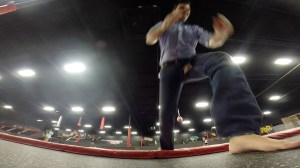 Parents need not worry about safety. There are Shakalaka attendants monitoring your child's every bounce. A word to the wise though: wear loose-fitting clothing — the liability waiver doesn't cover wardrobe malfunctions.
At $12 for an hour long 'flight pass', Romans says it's an affordable way to get tons of practice in.
"Very much so," she says. "And I gave away my trampoline so this is like heaven."
Shakalaka is open from 9 a.m. to 9 p.m. Monday through Thursday, 9 a.m. to midnight Friday and Saturday and closed Sunday. Click here for ticket information.
Shakalaka is California developer Case Lawrence's 10th U.S. trampoline Park. Lawrence opened his first arena in Fresno, Calif., followed by locations in Albuquerque, N.M., and Durham, N.C. He later opened venues in Birmingham, Knoxville, Virginia Beach, Va., Richmond, Va., Greenville, S.C., and Columbia, S.C.