This is an archived article and the information in the article may be outdated. Please look at the time stamp on the story to see when it was last updated.
HUNTSVILLE, Ala. — WHNT News 19 has confirmed that a handful of Ryan's restaurants are closing in north Alabama.
Employees of Ryan's on University Drive in Huntsville said they got a phone call from managers Thursday morning saying the restaurant was closing immediately.  Employee Jackie Reed said she was told not to come to work.  Other Huntsville employees confirmed that as well.
Glenn Tate, a former cook for the restaurant, got emotional talking about the closure. "I did cry after I got done talking to my manager, but it's still messed up," he says.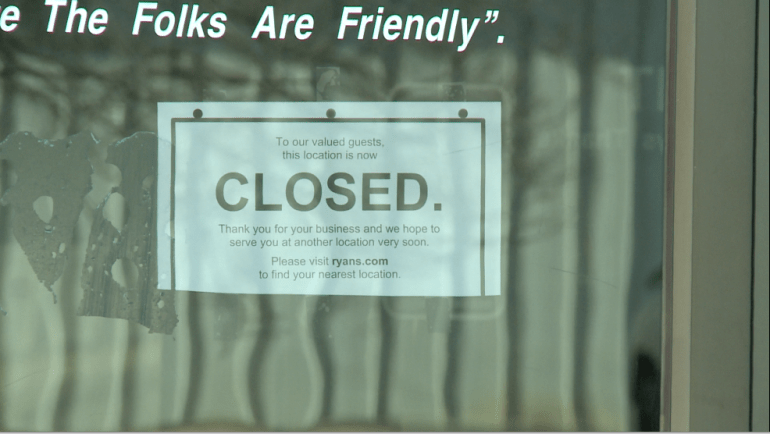 There is a sign posted on the door saying the restaurant is closed. Crews have U-Haul trucks in the parking lot to remove equipment. Joe and Joyce Gatlin approached the restaurant hoping to get some food. They said the abrupt closure was "bad business."
Jackie Reed told us, what she will miss most are the loyal customers she's served over the last 9 years. "We're going to miss all the people that come in because they get to be a part of your family," she says.
The feelings were mutual for Rose Bellkump. "Jackie is one of our favorite people," she says. "In fact, all of the servers have been fabulous."
Employees in Decatur, Fort Payne, Florence and Jasper were also notified Thursday their locations are closing.
Online, there are articles posted today about Ryan's restaurants closing in North Carolina, Virginia and Texas.
Ovation Brands issued a statement on Thursday afternoon:
"Ovation Brands was acquired by Food Management Partners in August 2015. Since that time, we have continued to execute former management's operating plan to stabilize and enhance the performance of the company. However, based on ongoing assessments of individual restaurants, it is necessary to shutter locations for the continued viability of the brands and our employees.

74 underperforming Old Country Buffet, Hometown Buffet, Ryan's, Fire Mountain and Country Buffet restaurants throughout the United States will permanently close on February 4, 2016.

While we cannot predict future market conditions, the plan is to continue operating the remaining Ovation Brands' restaurants as they are financially viable.

Although the overall number of employees affected by closures is large, employees of closed restaurants will be given the opportunity to apply for positions at operating stores, and we expect many to take advantage of that opportunity. Additionally, we will be adding staff to the operating restaurants, enabling us to provide the service levels our guests expect and deserve.

We know that these decisions are not easy, however, we strongly believe that this direction is best for the long-term health of all brands."
As for the former employees, WHNT News 19 accompanied a few as they applied for unemployment benefits at the Alabama Career Center System in Huntsville. They were told, once they are approved for benefits in a few weeks, they will be given back payment for the days they haven't worked.
All the more reason they would have appreciated more time before they were left without a job, without warning. "I just think corporate, the big money boys, need to stop treating people like this and start caring about the people," says Reed.