This is an archived article and the information in the article may be outdated. Please look at the time stamp on the story to see when it was last updated.
HUNTSVILLE, Ala. – We love taking a look back at the stories posted to WHNT.com over the course of a year. It's fun to find out which stories shot through the roof and went viral.
We gathered the top viral stories for 2015, as measured between January 1 and December 17, when we prepared this report. We appreciate you making WHNT.com your source for viral news online!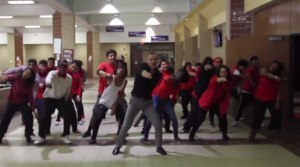 1. Viral Video: High school teacher, students create incredible 'Uptown Funk' video –  The coolest high school teacher in Texas and his students made a fun video for their school project. The video shows the teacher dancing around the school with his students to Mark Ronson and Bruno Mars' "Uptown Funk." Even more impressive, they do it in a single take! Plus, he's definitely got some moves!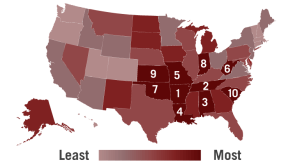 2. Study suggests Alabama could see fights during Black Friday sales – It turns out, Black Friday shopping in the southeast could be more dangerous than elsewhere in the country! The blog Estately ranks our state as the third most dangerous for Black Friday shoppers.  Arkansas is ranked number one, followed by Tennessee at number 2.  Louisiana and Missouri round out the top 5.
3. Take a look inside a $17.5M massive underground bunker in Georgia – When the end of the world happens, we know where we would like to be. This bunker in Tift Co., Ga. can withstand a 20-kiloton blast and was recently renovated to current government standards. It sports 12 bedrooms, 12 bathrooms, an exercise room, media room, recreation room and workshop. And it could be yours for a cool $17.5 million. Just think, though – the bank will have a hard time collecting on the mortgage after the "big one" hits.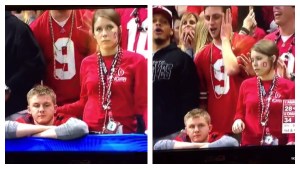 4. The six-second Sugar Bowl video that everyone is discussing – 2015 started with a bang with one of the top viral stories of the year. The clip titled "When you're at the game with your side dude and realize you're on TV" has been looped an incredible 122 million times since the Jan. 2 Sugar Bowl between Alabama and Ohio State. The clip had everyone wondering what exactly was going on. Did she call out sick to go to the game? Is she just camera-shy? A family member of the woman said the man and woman in the video are definitely in a relationship.
5. Medical Miracle: Baby born with amniotic sac intact – All moms think their babies are extraordinary, but 10-week-old Silas actually is.  When he was born prematurely via C-section at just 26 weeks, his amniotic sac didn't rupture at birth, a true medical rarity. Silas was born in his water bag, with the placenta and umbilical cord still tucked inside.  Until the bag was broken, Silas was still getting oxygen through the placenta.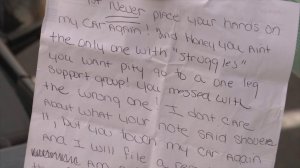 6. Woman's rude note over handicapped parking spot goes viral – Ashley Brady, 26, lost her right leg in an accident last year. After learning how to walk again with a prosthetic, her apartment complex designated her a permanent parking spot. When Ashley left a note on a car that was taking her spot, she received one in return. It said, in part, "Hey handicapped! First, never place your hands on my car again! Second, honey you ain't the only one with 'struggles' I let the office know the cry baby one leg touches my property I will cause trouble. So go cry your struggles to someone who cares cause I'm walking away with both mine!" The purpose of this story wasn't to shame the person who wrote the hateful letter, but instead to bring awareness to the struggles that come with disabilities.
7. WATCH: Homeless man given $100 and secretly followed to see how he would spend it – Josh Paler Lin wanted find out what a homeless man does after he's unexpectedly given $100. After picking the random man, who said his name was Thomas, and handing him $100 in cash, he followed him with a camera — and what happened is pretty neat. The video was uploaded to YouTube, and as of this writing, it has over 42 million views!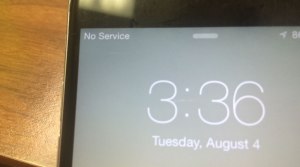 8. Large outages reported with Verizon, AT&T and T-Mobile – In early August, Verizon, AT&T, T-Mobile and Sprint simultaneously dropped service for millions of American in the southeast for 5-6 hours. Using Wi-Fi and hard-line connections, people took to social media to find answers, complain, and theorize about what happened. It turned out,  a single fiber-optic cable belonging to AT&T was cut along the Kentucky-Tennessee border Tuesday. The story has a pretty in-depth and interesting explanation about how a single cable could affect millions of people.
9. Military Wife Drops 100+ Pounds to Surprise Husband – High school sweethearts Misty and Larry Shaffer got married in October 2008. When Larry, an Army specialist, was deployed to Afghanistan for a year in 2012, Misty decided she wanted to get in shape. She weighed about 260 pounds when he left, and less than 155 pounds when he returned. Her primary mission: Cut out all the junk. She stopped drinking soda, and tried to limit her liquids to water and coffee.
10. Ga. middle school teacher arrested for letting kids have sex in classroom – It's disturbing on every level. A teacher was fired from his job and charged with a crime after he was accused of allowing students to have sex in a classroom closet. "It's very sickening and disheartening because we trust administrators and educators when we drop our kids off at school," the parent who discovered the unbelievable situation said.
We will leave you with this: