This is an archived article and the information in the article may be outdated. Please look at the time stamp on the story to see when it was last updated.
Safia Memon's lawyer has filed another motion with the court, asking that her client have a significant amount of cash returned to her.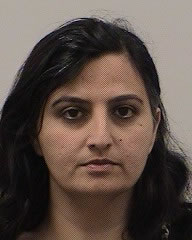 Memon is asking for prosecutors to return $3,000 to her that she had in her possession when she and her son Hammad Memon were arrested in Texas in April.
"There has been no civil forfeiture filed to date, nor was this property contraband," Memon's lawyer, Corrie Collins wrote. "The loss of this revenue lawfully earned by the Memon family has caused and continues to cause unnecessary financial hardship."
Safia Memon is also asking for her minor child's passport to be returned.
"This child is not a party in any way to this case, nor is the passport necessary evidence to be used by the State," the filing read.
On Wednesday, a judge denied a request by Safia Memon to attend her child's soccer tournament in Charlotte, North Carolina.
The Memons' oldest child, Hammad, is charged in the February 2010 deadly shooting at Discovery Middle School in Madison.