This is an archived article and the information in the article may be outdated. Please look at the time stamp on the story to see when it was last updated.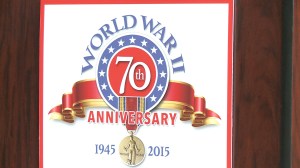 HUNTSVILLE, Ala. (WHNT) – Victory Day 2015 marks the 70th anniversary of the end of WWII. It's an opportunity to show our nation's deepest gratitude to those who remain, while honoring and remembering those no longer with us.
Friday, the U.S. Space and Rocket center announced they plan to do just that during a special observance to take place in August.
Victory Day, also known as VJ Day, marks the anniversary of the Allies' victory over Japan during World War II. It followed the dropping of the devastating atomic bomb on the Japanese cities of Hiroshima on Aug. 6 and Nagasaki on Aug. 9, 1945.
Of the 16 million Americans who served in uniform, less than 800,000 are alive today. Victory Day, a state holiday only in the State of Rhode Island, is observed on the second Monday of August each year. This year marks the 70th anniversary of the Allies' victory during WWII.
The Victory Day 2015 observance will be held at the U.S. Space & Rocket Center on Aug. 10 from 10 a.m. until 1 p.m. It will be a day of recognition for the men and women in military service during World War II.
Hundreds of WWII veterans are invited and expected to attend. Victory Day 2015 may be the last opportunity that such a large group of WWII veterans are assembled together for "An Outpouring of Thanks from A Grateful Nation."
WWII veterans and their families are invited and urged to attend. The public is invited to display signs, posters and expressions of gratitude.
The event will feature an orchestra performance, re-enactors, WWII equipment, dignitaries, celebrities, entertainment, gifts and expressions of thanks, an honor processional and an F-16 fly over salute to honor the veterans.
For more information on the event click here.