This is an archived article and the information in the article may be outdated. Please look at the time stamp on the story to see when it was last updated.
LAWRENCE COUNTY, Ala. (WHNT) - Ricky Lynn Nelms left his parents' home in Moulton back in early 1988.  He was headed to Wichita, Kansas where he had a job as a roofer.
Investigators say he phoned home in February of that year and talked to his mother briefly, but that was the last time anyone ever heard from him.
His mother kept expecting to hear back from him, but after six months, she knew something was wrong and she reported Ricky missing.  Now, 25 years later, the case is still as much of a mystery as it ever was.  What happened to Ricky Nelms?
Cathy Nelms says she only has one photo of her son, Ricky.  All of the others, that were taken more recently, were given to investigators in the hope it might help them to find him.
"It's been 20-something years since this happened, or since he went missing, we still want to know, we still want the answers," said Captain Tim McWhorter of the Lawrence County Sheriff's Office. "And there may be people who hold answers."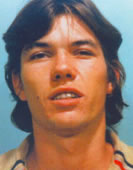 Mrs. Nelms tells us the last time she saw her son was at the family home, near Trinity. She says Ricky was waving goodbye and getting into a car with a very old friend of his. The two guys were headed to Wichita, Kansas where Ricky had been working for some time as a roofer.  Mrs. Nelms tells us it wasn't at all unusual for it to be several weeks, maybe even a couple of months in between his phone calls to her. But after no word in six months, she says she knew in her heart that something terrible had happened and she reported him missing."
"Something happened to him. He's not, he's not alive because if he was alive he'd call me," said Cathy Nelms.  "And if he wouldn't call me, he'd call his sister because him and his sister's real close."
But 25 years have passed with no calls.  Capt. McWhorter began working the case in 2005 in conjunction with a murder arrest he made for officials in Kansas.  It turned out to be a relative of the man Ricky Nelms went with when he left home.
"At that point in time, we started investigating it further and questioned people who were acquaintances with Mr. Nelms, and tried to gather all the information that we could," said Capt. McWhorter. "The information that we were getting was somewhat of hearsay and rumors that he might have been killed while residing in Kansas."
In fact, one of the stories was specific enough to lead authorities to a location near Wichita where Ricky's body might have been buried.  But when authorities in Kansas checked, they found a new subdivision and shopping center had been built there, and the landmarks that might have led to Ricky's grave were long gone.  McWhorter says he believes someone out there holds the clue that would solve this case, and bring closure for a family that has waited a long time.
"Especially a family that many of them are getting up in years, some of them have passed away, but to be able to provide some answers for these folks and some justice for him," said Capt. McWhorter.
Cathy Nelms says she knows her son is dead.  She says he appeared before her as an apparition one night many years ago and she says that experience has allowed her to move on with her life.
"If he's buried somewhere on the creek or somewhere, I'd like to know where he was at, you know, what happened to him," said Nelms. "If someone killed him, what did they kill him for?  They had to have a reason."