This is an archived article and the information in the article may be outdated. Please look at the time stamp on the story to see when it was last updated.
DADE COUNTY, Ga. - "We didn't see anything on our side except for smoke. And then when I saw the flames, I thought it had jumped, so I called in the call," said Veronica Williamson, a resident in Rising Fawn, Georgia.  "They said they had already got it taken care of. That it was under control and they had a barrier."
Veronica Williamson was on her way from Trenton, Georgia when she first noticed the fire on the mountain across from her home.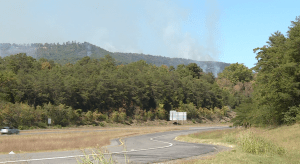 "The worst was when we could stand on our porch and you could literally see the flames catching trees. You could literally see each tree that it lit up. It was just like a big flame for a second and then it died down and go to the next tree and then it would be up again."
Veronica says the fire isn't very threatening because of its distance from homes in the area, but the smoke from the fire has caused some concerns.
"I mean our biggest thing was smoke. We had a lot of smoke from it and then the wind form the storm was just pushing it down the mountain all in the area. For a while there you couldn't even go outside. It was too thick."
She says if the fire does get worse, she has faith in the local fire departments that have been working hard on putting out the fire thus far.
"We have volunteer firefighters and for them to be able to take the time that they're taking and doing what their doing, I mean they've been awesome. And if it did get to where it was a danger to anybody, they'd have us cleared out of here in a heartbeat."