This is an archived article and the information in the article may be outdated. Please look at the time stamp on the story to see when it was last updated.
The Tennessee Valley is often impacted by tropical systems as they make their way inland, but usually they are remnants as they approach northern Alabama and southern Tennessee.
They also tend to make their way inland during the summer months of August and September; it's rare for a system to impact the Valley during the middle of fall in October.
The last time we experienced a legitimate tropical storm in the Tennessee Valley during the month of October occurred in 1995, when Opal maintained strength well inland after making landfall near Pensacola Beach.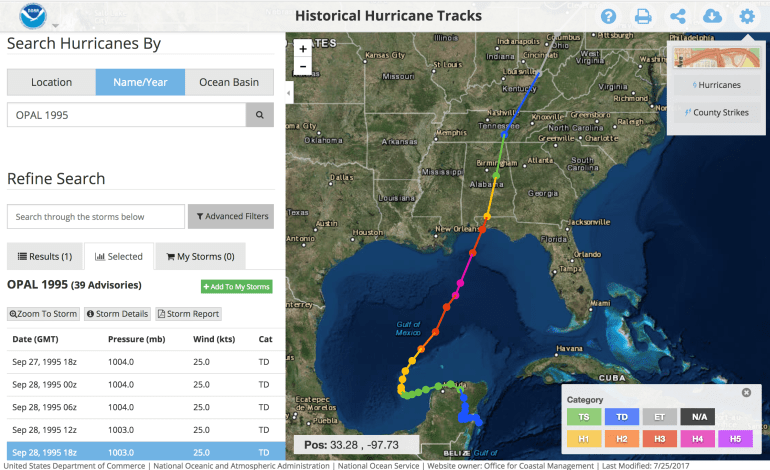 Opal was a category 3 hurricane with maximum sustained wind speeds of 115 mph as it moved ashore in Florida around 5pm on October 4, 1995. About 12 hours later, it was still officially a tropical storm with 40mph maximum sustained wind speeds as it moved through Jackson County, Alabama.
Twenty-two years later, a tropical depression in the Gulf of Mexico has the potential to strengthen into a hurricane — gaining the name "Nate" —  before making landfall this weekend. The forecast track for "Nate" looks very similar to Opal — a possible case of hurricane history repeating.
Looking back at Hurricane Opal: Impacts region-wide
According to NOAA and the National Weather Service:
27 people died in Florida (5), Georgia (14), Alabama (6), and North Carolina (2)
Opal's overall damages are estimated to be (in 1995 dollars) $2.1 billion in insured losses; that is $3.36 billion in 2017 dollars
Hundreds of boats were destroyed in marinas; motels and hotels sustained severe damage
As much as 3-5 feet of sand was deposited in some beachfront homes and businesses; 20-foot sand dunes were laid flat by the surge.
Over 1 million customers in the Southeast were without power for 2 days after the storm. This included over 500,000 people without power in the Florida panhandle and 400,000 people without power in the Atlanta area.
Notable Wind Gusts from Opal
Montgomery AFB: 90 mph (hurricane strength)
Marietta, GA: 69 mph (tropical storm strength)
Pensacola, FL: 66 mph (tropical storm strength)
Columbus, GA/Ft. Benning: 61 mph (tropical storm strength)
Auburn: 57 mph (tropical storm strength)
Huntsville: 55 mph (tropical storm strength)
Atlanta-DeKalb, GA: 52 mph (tropical storm strength)
Atlanta-Hartsfield, GA: 49 mph (tropical storm strength)
Birmingham: 46 mph (tropical storm strength)
Nashville, TN: 46 mph (tropical storm strength)
Tuscaloosa: 46 mph (tropical storm strength)
Notable Rainfall totals from Opal
Birmingham: 9.80 inches
Pinson: 8.54 inches
Anniston: 7.21 inches
Selma: 7.41 inches
Alabaster: 7.11 inches
Atlanta, GA: 7.11 inches
Pensacola, FL: 5.64 inches
Montgomery: 5.55 inches
Chattanooga, TN: 5.45 inches
Huntsville: 4.59 inches
Nashville, TN: 3.50 inches