This is an archived article and the information in the article may be outdated. Please look at the time stamp on the story to see when it was last updated.
JEFFERSON COUNTY, Ala. – The Jefferson County Sheriff's Department is investigating what could be human remains found Saturday in a shallow grave off of Oakdale Road near the Miller Steam Plant in western Jefferson County.
According to our newspartners at AL.com, authorities say there is a spot nearby that they believe is a second grave.
Chief Deputy Randy Christian said the discovery was made by a pair of volunteers helping family members search for a missing couple from Walker County.
The volunteers told deputies they were somewhat familiar with the area and had been provided a map by Walker County Sheriff's investigators that indicated the areas where the missing couple's cell phones were last used. They were walking the area and discovered the remains in the woods, Christian said.
Once deputies arrived, they found one set of partially buried human remains in a shallow grave and an area of disturbed earth adjacent to it that could be a second grave.
A Forensic Recovery Team from the Jefferson County Coroner's Office will arrive Monday morning.
Chief Deputy Christian said the remains have not been identified and he did not identify them as belonging to the missing couple.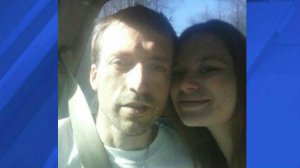 Volunteers have been searching this weekend for a couple missing since Sept. 14. Duston "Dusty" Turner, 39, and Jennifer Phillips, 30, were last seen at their home in Quinton, according to family members.
A missing persons report was filed with the Walker County Sheriff's Office. Turner's mother, Dessie Wall, said she believes the remains are that of her son and Phillips.
"It's not far from their home and they're both together and they've been gone so long," Wall told AL.com. "I'm just waiting on answers. It's been real hard."
"Somebody had to do this to them and I just don't understand how somebody could do this to them," Wall said. "I just want anybody to know what happened to come forward. We need answers and closure."