This is an archived article and the information in the article may be outdated. Please look at the time stamp on the story to see when it was last updated.
REDSTONE ARSENAL, Ala. - Vice President Mike Pence flew to Redstone Arsenal on Monday, with plans to meet with leaders at NASA and discuss the space program.
En route to @NASA_Marshall w/ @Robert_Aderholt, Natl Space Council ED Scott Pace & policy dir. Daris Meeks to discuss space program. #VPinAL pic.twitter.com/ugx3MaUGdt

— Vice President Mike Pence (@VP) September 25, 2017
The ISS
He got the chance at Marshall Space Flight Center to speak with three astronauts on the International Space Station.
"Literally and figuratively, we all look up to you." - @VP Pence on talking to astronauts aboard the space station today. pic.twitter.com/ijkct7MLw1

— Intl. Space Station (@Space_Station) September 25, 2017
Mr. Pence told the astronauts that he is looking to build on the historic work they are doing in orbit, and he said the President and his administration have a mission of their own: "America is determined to lead once again, not just in low-Earth orbit, but once again leading the world in Space exploration," he explained.
Pence asked the astronauts how they get used to space, and delighted in watching them do somersaults in zero gravity. He explained the President's desires and recent steps to further STEM education, and asked for advice to young people today.
"Dream big," the commander told him.
Pence, the chair of the National Space Council, said he will work to develop policies to support missions in space and lead them into the future. He explained his enthusiasm for deep-space exploration.
This call with astronauts was the first White House-level call to the ISS from MSFC.
The SLS
He also visited the high bay, where the engine section test article for the for the Space Launch System (SLS) is being tested rigorously.
The @VP is here touring @NASA_SLS engine section test article @whnt pic.twitter.com/z3VBBrEMJB

— Kristen Conner (@KConnerTweets) September 25, 2017
The SLS, or Space Launch System, is the most powerful rocket and most advanced launch vehicle ever built.
It must withstand 8-million pounds of thrust, so the portion Mr. Pence toured Monday will be aggressively tested to make sure they can withstand compression, tension, bending, torsion, and shear. It will need to be declared safe for flight before assembly.
The SLS is the new rocket for deep-space exploration.
Vice President Pence received a briefing on the SLS from MSFC Director, Todd May. He then walked under the test article, where he later took a selfie with engineers and those who work on the hardware.
"To share with the Vice President and to shake his hand-made it an amazing day!" said Heather Haney, the SLS Stages Dry Structures Manager. "He just asked for a selfie!"
Haney added, "We still have a lot of work to do. We still have a lot of testing to do."
But she is thrilled to have shared this moment with Pence.
"For him to visit MSFC is beyond words," she said.
John Honeycutt, the SLS Program Manager, said Pence was easy to talk to. He was pleased to share their work with the nation's second-in-command too.
"It's unbelievable that he took time to come here and see the progress we are making on SLS," explained Honeycutt. "He said, 'This is amazing! You guys are doing good work.' He said, 'The President wants to fly the rocket.'"
Honeycutt said as the Vice President leaves, they are left with the Trump administration's support. It means a lot.
"This administration supports the rocket," he said. "I think he was very impressed. He was awe-inspired, I think."
Local leaders were also in attendance. Madison Mayor, Paul Finley, took selfies with Pence too.
"These folks work so hard. To have a unified, positive voice say we are going to continue into space long-term is a big deal for our community that we can build on for years to come," he said. "I told him, 'Thank you for coming. Thank you for our commitment.'"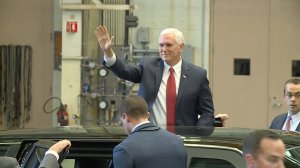 "It was things we have been waiting to hear for years and years, and it makes you very proud of the work that's being done at MSFC," said Huntsville Mayor Tommy Battle. "He knows where we need to go. He has the focus of taking America back into leading that space race and we can do it from right here."
"We have always been right there taking the propulsion systems to take us into space, but now we are headed to deep space," said Battle. "We can continue to be the center."
Pence also took time to visit AMRDEC, the US Army Aviation and Missile Research Development and Engineering Center.
Wheels-Up
After the tours at Redstone Arsenal, Vice President Pence took a trip to Birmingham to campaign for Senator Luther Strange in his primary against Roy Moore.
Air Force 2 taking off from @TeamRedstone @whnt pic.twitter.com/BK6NkXZicN

— Kristen Conner (@KConnerTweets) September 25, 2017
Vice President Pence is the 4th Vice President to visit MSFC. The most recent Vice Presidential visit before this was Dan Quayle in 1992.
George Bush, Sr., was the last President to visit on June 20, 1990. President Dwight D. Eisenhower visited in 1960 to dedicate the center. President Kennedy came in '62 and '63​ with Vice President Lyndon Johnson. Vice President Hubert Humphrey came to Marshall in '67.