This is an archived article and the information in the article may be outdated. Please look at the time stamp on the story to see when it was last updated.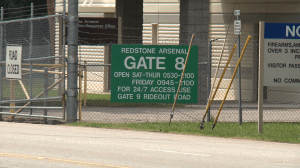 REDSTONE ARSENAL, Ala. (WHNT) – It took nearly two weeks of complaints and behind-the-scenes work to find solutions for traffic congestion at Arsenal gates.  But the hope reopening Gate 8 Monday morning would alleviate traffic backups came as a success according to Arsenal officials.
"This is the first day of our expanded gate hours but we're encouraged by shorter wait times and less traffic backup," says Chris Colster, U.S. Army Garrison Public Affairs Officer at Redstone Arsenal.
"We just really want to thank Team Redstone for everyone's patience during this entire process," Colster continued. "We work with true professionals who are very adaptive and hopefully this will alleviate some of the stress on the entire workforce."
Colster says this whole process is really about the safety and security of the entire Redstone team. He said Arsenal gates provide security that is essential to their mission, but they also need to move their workforce onto the Arsenal in a safe and timely manner, so it's always a balancing act, Colster says.
Colster did ask each driver remain patient and understand wait times may still be a little longer than usual as Redstone works through the process of hiring and training additional gate guards.
This move comes after an announcement Thursday by U.S. Senator Jeff Sessions' office that 20 new security guards would be hired.  Sen. Sessions (R-Alabama) says the addition brings the total number of guards to 100.
In the authorization, IMCOM officials acknowledged the unique and exceptional circumstances of Redstone Arsenal as a federal center of excellence with a workforce composed mainly of civilians who commute to work every day.
"Though hiring additional personnel will take some time, we are implementing measures that will allow us to provide immediate relief to the rush hour congestion," said Michael Sheehy, Director of Emergency Services, Redstone Arsenal.