This is an archived article and the information in the article may be outdated. Please look at the time stamp on the story to see when it was last updated.
REDSTONE ARSENAL, Ala. – Mark Esper, U.S. Secretary of the Army, visited Redstone Arsenal on Wednesday. He toured and met with leaders from the U.S. Army Materiel Command, U.S. Army Space and Missile Defense Command/U.S. Army Forces Strategic Command, and the Aviation and Missile Research, Development, and Engineering Center.
"I am very pleased with what they're doing," he said.
This was Esper's first visit to Redstone Arsenal since he was confirmed by the U.S. Senate in November.
As he visited these commands, he talked readiness and explained his vision for the Army's future. Esper met with General Gustave Perna, Commanding General of the AMC, and toured AMRDEC labs to talk about the Army's research and development side. His wife, Leah, accompanied him on the trip, but she toured troop and civilian support services at the installation.
Esper said he had a "great" visit, noting that each command described a positive relationship with the community that includes and surrounds Redstone Arsenal.
"I am sure I'll be back again in the future as I continue to make my way around the Army," he said, "but my first visit was a good one and I am pleased with what I see."
Readiness and the AMC's role
Esper's first priority, he said, is readiness. It's something he shares with other top Army leaders.
He said the Army, while continuing operations in Afghanistan and Iraq, is adapting to other threats and situations across the globe. They must be prepared.
"We're expanding the aperture and opening up more toward, how do we prepare for a high-end fight? Whether it's North Korea or Russia, whatever the case may be," he said. "They're doing a great job helping the Army reposition itself to look ahead," he commented about the commands at Redstone.
While the most recent government shutdown is over, another budget battle looms in Congress. Esper said people should stay focused.
"We have an important job to do. The defense of our country," he said. "Stay focused. Congress and the executive branch will sort out the funding issues. Stay focused on what you're doing," he advised Army members.
The AMC is a vital part of keeping the Army going. It is in charge of supporting the warfighter by providing everything they need to do their jobs. In supplying the force, their role is critical, Esper explained.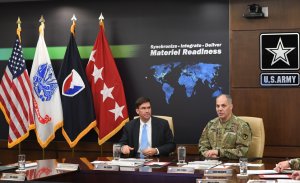 "General Perna and his team are doing a great job in terms of engaging industry, catching up, looking at innovative ways to get parts and supply them on time," he stated. "You can be well-trained, you can have the munitions and personnel you need, but if you can't get your tank out you aren't ready for the fight."
But he said increased training to be ready for the next fight is putting strain on gear.
"[Some materiel] just haven't been exercised like that in a dozen plus years," he said. "We're putting a lot more miles on those vehicles, so there's a lot more wear and tear. They're breaking down. And some people may say, that's bad. They're breaking down! But that's good. That's an indicator that we are exercising, we're training."
He said he has spoken to General Perna about how to take the AMC into the future.
"How can we take technologies like 3D printing, which is called additive manufacturing, and rather than running a supply requisition all the way back to one of our supply depots, maybe you just print it on the spot in a division support area close to the battlefield," he offered. "We look at this time of great challenge, and I see opportunity."
Modernization

As the Army moves into the future, Esper said his second priority is modernization, with reform a close third. He said we can expect to see both in order to keep the Army strong.
Part of that is creating a new command called the Army Futures Command. It will be created, Esper said, to inspire bold reorganization in terms of how the Army gets weapons and equipment to the soldiers that need it.
"It's a different way of modernizing the force," he said. "We have an acquisition system right now that has been there for many years, that does a good job. But how do we optimize that system?"
He continued, "Part of that is, how do we look at a different organizational arrangement? How do we improve the processes? Reduce the paperwork?"
This command is still in development, to stand up in the summer of this year. A task force will inform Esper of its recommendations of how to get started.
But where will the new command be? Could it be at Redstone Arsenal?
Esper said it is too soon to tell.
"We intend to take a pragmatic, objective approach to come up with some of the top-tier sites to look at," he explained. "We're looking at an aggressive timeline, just to move quickly. We just can't afford, given what our soldiers need, to lose time."
Officials say Army Secretary Esper will likely be back to the Tennessee Valley in March to attend the 2018 AUSA Global Forces Symposium. That's where he's expected to reveal more about the Army Futures Command.