This is an archived article and the information in the article may be outdated. Please look at the time stamp on the story to see when it was last updated.
Taco seasoning, enchilada sauce and taco-making kits made by Ortega and Las Palmas are being recalled because their labels do not alert consumers that they contain peanuts and almonds, allergens that could cause life-threatening reactions.
B&G Foods has issued a voluntarily recall on certain Ortega Taco Seasoning Mix, Ortega Taco Sauce, Ortega Enchilada Sauce and Ortega Taco Kit products and certain Las Palmas Taco Seasoning Mix and Las Palmas Taco Sauce, according to the company's website.
The items contain peanuts and almonds but don't warn consumers that they're present.
Those with allergies to either nut could suffer a serious or life-threatening reaction, but there is no health risk associated with these products for anyone who does not have an allergy to peanuts or almonds.
This recall affects the following products, which were sold in retail stores and foodservice outlets, according to B&G Foods: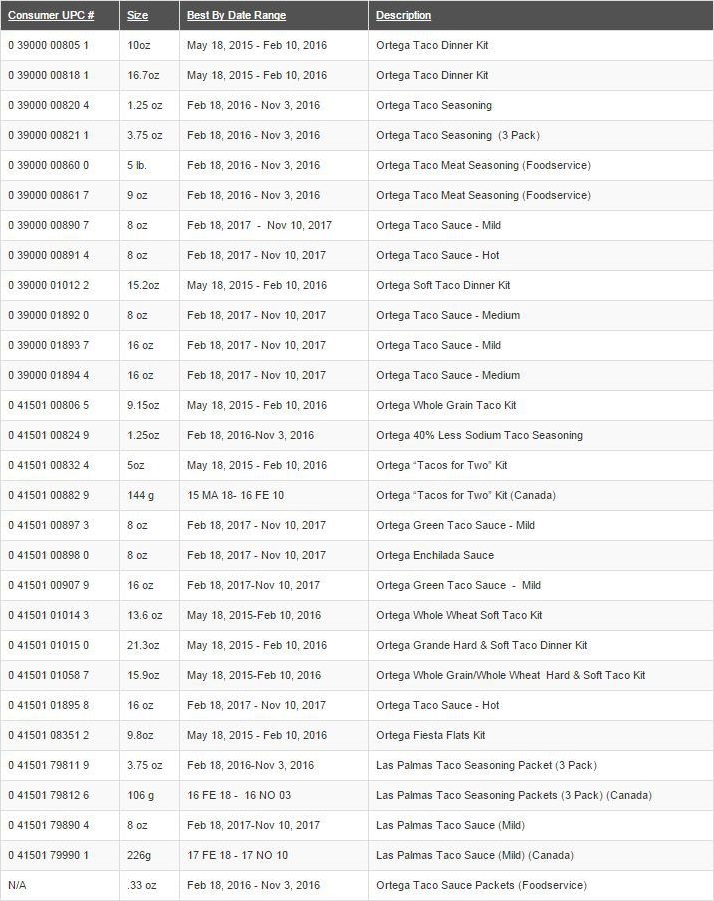 No other sizes or varieties of Ortega seasoning mixes are affected by the recall.
The company initiated the recall after it discovered that ingredients from a third-party supplier were contaminated with the allergens and has since cut ties to the supplier, according to B&G Foods.
Consumers who have purchased the recalled products are urged to return them to the place of purchase for a full refund. Consumers with questions may contact the company's recall hotline at 877-929-2576 from 8:00 a.m. ET to 8:00 p.m. ET, or visit www.ortega.com for additional information.