This is an archived article and the information in the article may be outdated. Please look at the time stamp on the story to see when it was last updated.
RAINBOW CITY, Ala. – Rainbow City Police have released a video intending to quell claims of police brutality after an incident during a traffic stop on Thursday, according to our news partner AL.com.
A post on Facebook claimed that Rainbow City Police "beat him half to death and pushed him off a bridge," referring to a man involved in the traffic stop. The post says the victim was taken to a Gadsden hospital and airlifted to UAB hospital. The post has been taken down as of today, but images remain of the post which was shared 28,000 times.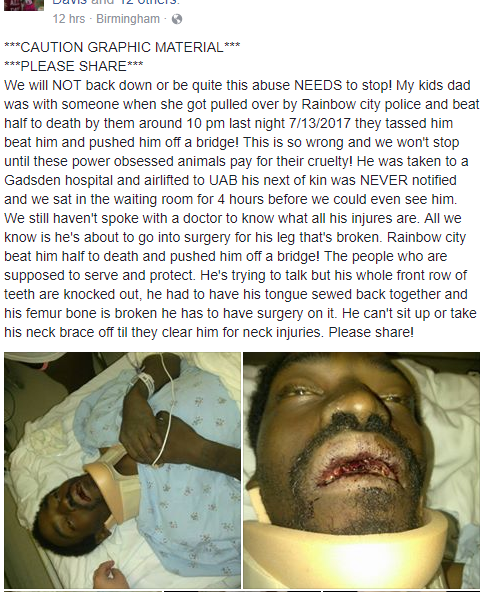 Rainbow City Police Chief Jonathan Horton found out about the post Friday morning, and released the officer's bodycam video on YouTube. 
The video shows the officers conducting a traffic stop and checking the man's ID. They learned the male's name was different than shown on his identification.
After running his relay name through their database, officers discovered the man had a probation revocation for two felony warrants.
When police tried to come back and talk to the man, he ran from officers and crossed two lanes of traffic, jumping off the bridge and landing on the ground. Officers pursued him and eventually used a stun gun on him when he refused to comply.
Police Chief Horton says the injuries the man sustained looked like they were from the 19-foot fall from the bridge, not because of officer misconduct. He went on to say there wasn't any physical contact other than the man being tased.