This is an archived article and the information in the article may be outdated. Please look at the time stamp on the story to see when it was last updated.
MONTGOMERY, Ala. – It probably didn't surprise many people that Governor Robert Bentley didn't come to State Auditor Jim Zeigler's office on Monday morning.  Neither did any members of his staff, but Zeigler pushed forward, saying he is now prepared to take the case to Montgomery County Circuit Court.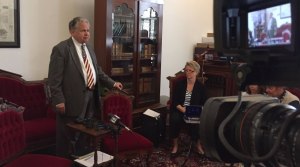 Zeigler called for Bentley twice, once at 10:00 a.m. and again at 10:10 a.m.  He had called Gov. Bentley to appear and produce documents, including expenditures and flight and passenger manifests for state aircraft, among other things.  Zeigler issued the order on April 21.
Zeigler said he will prepare to file in Montgomery County Circuit Court, and plans to do so by May 9.  He will request the court issue an order for Gov. Bentley to appear, bring the documents to court, and if he fails to do so, he would face contempt of court charges.
This requests the circuit court to get involved. Would make Bentley not showing up to the next exam a legal infraction @whnt

— Kristen Conner (@KConnerTweets) May 2, 2016
May set up a legal fund to pay for civil action, zeigler says. Public could contribute. That's if lawyers aren't going to donate time @whnt

— Kristen Conner (@KConnerTweets) May 2, 2016
The order stems from Bentley's relationship with his former chief political advisor, Rebekah Mason. Audio recordings of Bentley talking to Mason in intimate terms were made public in the last few weeks, creating a firestorm in Montgomery.
Zeigler says Alabama law gives him the authority to compel a state official to produce documents and give state testimony.
Bentley released a statement on Friday saying:
"The appropriate legal process is through the Alabama Ethics Commission where the Auditor has already filed a complaint, and we are fully cooperating in every way. I do not intend to respond further to Mr. Zeigler."
Zeigler stood next to an empty chair and spoke for 40 minutes, and took questions. He made a number of accusations, including a claim that he has never met Governor Bentley.
Bentley's staff was watching the news conference. His Communications Director Jennifer Ardis tweeted a response with a photo showing the two together at a campaign event, along with Lieutenant Governor Kay Ivey.
State auditor Jim Ziegler says he "has never met governor Bentley"

— Alabama Politics (@AlabamaPolitics) May 2, 2016
https://twitter.com/jenniferardis/status/727156415215841280
https://twitter.com/jenniferardis/status/727157296741126144