This is an archived article and the information in the article may be outdated. Please look at the time stamp on the story to see when it was last updated.
HUNTSVILLE, Ala. (WHNT) - A heated  exchange between West Huntsville residents and Huntsville Housing Authority officials unfolded at a community meeting Thursday night.
The residents gathered to express their opposition to a proposal to build a 40-unit public housing apartment complex on Newson Road.
The proposal is part of the HHA's continued effort to move away from the standard clustered public housing and deconcentrate public housing across the city.
While developers tried to frame it as an opportunity for the community to grow and increase property values, residents weren't buying  it.
"If they gotta build it, go somewhere else," said one disgruntled resident.
The major concern of the evening was the majority of public housing communities already in west Huntsville.
Several residents blasted the HHA for moving more public housing units to west Huntsville over the years.
Executive Director of the housing authority, Michael Lundy, said the concentration in west Huntsville was started in the 1950s.  Residents said it was time to move the public housing units east.
The Huntsville Housing Authority website does feature a map of public housing locations across the city. Eleven out of 13 are in west Huntsville.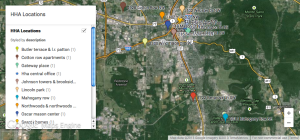 Sergeant Mark Roberts also addressed the crowd about crime in the Newson Road neighborhood. According to Roberts,  185 crimes occurred on Newson Road in 2012 alone. However, he went on to add that over the years crime rates within public housing communities are less than those in the surrounding communities.
District 4 Councilman Bill Kling also expressed his opposition to the new public housing complex.
"I think the housing authority is clustering and putting to much of their housing units in west Huntsville," said Kling. "We want everyone to have a fair opportunity to live where they want to, but the mission of the housing authority is to disperse not to cluster. It's counterproductive."
He went on to express his support for fair housing, saying there should be no discrimination for housing opportunities.
After being bombarded with negative feedback, Lundy says the overall community sentiment is clear. He did not say whether he'll consider scrapping the project and moving east.
"I plan to have a discussion with our development team to talk about the pros and cons of moving forward."