This is an archived article and the information in the article may be outdated. Please look at the time stamp on the story to see when it was last updated.
MONTGOMERY, Ala. – State Auditor Jim Zeigler asked fans of his Facebook page, called Zeigler: Waste Cutter, what he should do about Governor Robert Bentley swinging by his office with a "peach offering" of Chilton County peaches.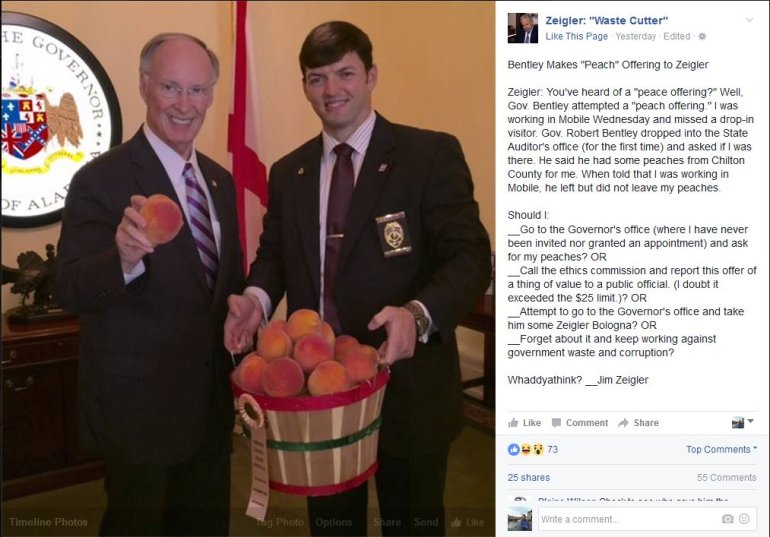 Zeigler's post says he was working in Mobile when the governor dropped into his Montgomery office and asked for him.  The governor brought peaches from Chilton County for the auditor.  When he found out Zeigler wasn't in the office he left, taking the peaches with him.
Zeigler gave fans the following options:

"Go to the governor's office (where I have never been invited nor granted an appointment) and ask for my peaches?

Call the ethics commission and report this offer of a thing of value to a public official (I doubt it exceeded the $25 limit.)?

Attempt to go to the Governor's office and take him some Zeigler Bologna?


Forget about it and keep working against government waste and corruption?"
It appears Zeigler took the photo attached to the Facebook post from a Clanton Advertiser article from 2015.
Zeigler has named Bentley in two lawsuits this summer alone; one about the use of BP oil settlement money to build a beachfront hotel and conference center and one regarding the contract for STAARS, the state accounting system.
WHNT News 19 reached out to the governor's office to see if he really brought the peaches by Zeigler's office. A spokesperson tells us the governor got the peaches at an event from a Peach Queen. He brought them back to the office, and stopped by to give some to Zeigler, whose office is just down the hall from the governor.
The spokesperson says the peaches were given out to other people after the visit to the auditor's office.