This is an archived article and the information in the article may be outdated. Please look at the time stamp on the story to see when it was last updated.
HUNTSVILLE, Ala. (WHNT) - It's the third day of the partial government shutdown with no signs of compromise between democrats and republicans. The shutdown has affected many federally funded projects; like projects which involve potentially life-changing research.
Every week, hundreds of patients are admitted to new clinical trials at the National Institutes of Health. But as of Tuesday, these patients are being put on hold until the government resumes operation.
The research conducted at Clearview Cancer Institute in Huntsville and treatment centers across the nation takes a compound from the laboratory bench to a patient's bedside. CCI says they are all too aware of the stalemate their counterparts are dealing with but luckily they don't rely solely on federal funding for clinical research.
Clearview's Lead Clinical Researcher Emily Pauli says academic centers, medical schools, certainly the National Institutes of Health - all entities relying completely on federal funding - have been hardest hit by the government shutdown.
The NIH, she says, is now operating at about 25 percent their normal staff - shutting down new clinical trials, unable to enroll patients in new studies. Pauli says CCI oncologists are bracing for the trickle-down of clinical implications.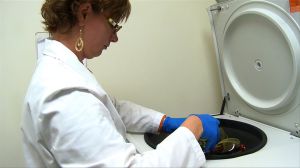 "What we're seeing is our pharmaceutical and biotech partners are taking a watchful waiting approach right now," Pauli says. "Everyone is asking how long this is going to last. There are a lot of variables that everyone is evaluating including here at Clearview."
Pauli explains furloughed federal employees with the FDA and Health and Human Services Department also cause a gap in progress.
"In the long-term, drug approvals are being slowed."
Pauli says the partial government shutdown is also having an impact on partners in the small business community.
"The Small Business Administration Office, the patent office, the Securities and Exchange Commission - all these processes are slowed so their sources for funding for securing patents, for getting an IPO out for additional rounds of funding - everything is slowed," says Pauli. "
The research director says there is also an immediate impact at hand. She says as updates on government websites slow, so does critical information about research trials.
Clinicaltrials.gov, Pauli explains, is the national clearinghouse for clinical trials.
"Information about any new trials any updates to trials that are ongoing and still collecting data is not relayed to us and that's the manner in which we've come to rely on that information."
A banner at the top of the homepage of clinicaltrials.gov reads:
Due to the lapse in government funding, the information on this website may not be up to date, transactions submitted via the website may not be processed, and the agency may not be able to respond to inquiries until appropriations are enacted. Updates regarding government operating status and resumption of normal operations can be found at http://www.usa.gov. 
CCI's clinical research program relies more heavily on private grants and on funding from trial sponsors to cover the costs of conducting research that are specific to clinical trials. Pauli says as an outpatient ambulatory oncology/hematology clinic, CCI is excluded from government grant funding because they operate as a physician-based, community clinic.
"But obviously," concludes Pauli, "the longer the shutdown the longer the impact -- for everyone."
In the short-term, a partial government shutdown has not adversely affected CCI's research program. Pauli reports the institute is enrolling new patients to research trials and is still on track to open new trials later this month. CCI is, however, keeping a close hand on the pulse of the  situation with their biotech, pharmaceutical, and molecular diagnostic partners in research.