This is an archived article and the information in the article may be outdated. Please look at the time stamp on the story to see when it was last updated.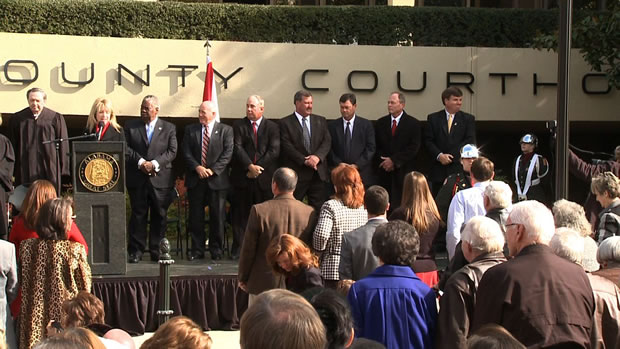 HUNTSVILLE, Ala. (WHNT) - The swearing-in of the new Madison County Commission happened Wednesday morning on the courthouse square in Huntsville.
There are several new faces with a new vision for Madison County.
"Today is a special day, a day we look back and thank those who came before us," said Chairman Dale Strong.
As Chairman, Strong takes the helm of Madison County government with new and familiar faces:
Commissioner Roger Jones was sworn in to serve his fourth term in District One.
Phil Riddick will begin a four-year term in District 5 after his appointment two years ago.
District 6's Bob Harrison took the oath to serve his third term on the commission.
Former Madison City Council member Steve Haraway replaces Faye Dyer in District 2.
Eddie Sisk was sworn in for District 3, replacing Jerry Craig.
Phil Vandiver will replace new Commission Chairman Dale Strong in District 4.
Chairman Strong says Madison County's best days are still ahead.
     
"We will be taking real action to make our community safer, to improve our court system, to save taxpayer money; changes that will make our commission more open and accountable to the public and that will make our government more efficient -- we can do more with less," said Strong.
Strong vowed the commission would take even more aggressive steps to bring new jobs and commercial development all across Madison County.
The new commission's first official meeting took place immediately after the swearing-in ceremony.