This is an archived article and the information in the article may be outdated. Please look at the time stamp on the story to see when it was last updated.
HUNTSVILLE, Ala. (WHNT) -- It's rare there is a meeting in the Rocket City Jackie Reed is not attending.
For more than 20 years  the spunky senior and long-time community activist has assumed her seat at city council meetings and budget hearings. While elected officials change, Reed has been a fixture in city government, not afraid to ask the tough questions.
But Thursday night in city council chambers  Reed was not sitting with the rest of the public, she was perched in a high back chair right next to the rest of the council members and Mayor Tommy Battle on stage.
United Cerebral Palsy auctioned off a chance to serve as an honorary City Council member for a day. Reed's daughter, Debbie Batson, was the high bidder  and gave Reed the seat as a Mother's Day present.
While Reed did not have any voting duties Thursday night, she was able to sit just a little closer to the action, a seat she says is something she still has a goal of making a more permanent position.
"I am not going to stop working to give people a voice in this city," Reed said.
She has made a run for mayor seven times, city council five, and even made a run for state legislature. So far she has not been rewarded with a win, but that has not stopped her gusto for a chance at public service.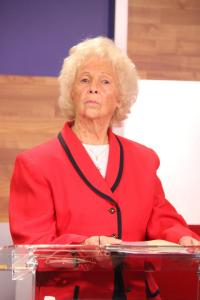 "I just, I care. I care about this city," Reed exclaimed. "I care about these people."
Reed is passionate about a lot of things in our city but it is schools, chickens and the newly formed entertainment district that has been the focus of her microscope and activism. 
"My friends and people on the street have been calling me the mayor for the past 15 years. I've carried the title and I'm not getting paid for it and I'm not sitting in the seat," Reed joked.
Reed's daughter, son and grandchildren were all present for Jackie's big night on council.