This is an archived article and the information in the article may be outdated. Please look at the time stamp on the story to see when it was last updated.
MONTGOMERY, Ala. (WHNT) – Alabama House Speaker Mike Hubbard has come out swinging after being arrested on felony ethics charges.  He says he isn't going to step down and he'll continue with his re-election campaign.
Hubbard attended a candidate forum Monday night, hours after being released from the Lee County Jail.   He and supporters held a news conference Tuesday which was more like a campaign rally.  Read more coverage shortly.
Hubbard posted this video on his Facebook page Monday:
[protected-iframe id="f3da0a41e807538b1ead870f9917a7a1-29519529-28568892″ info="d.getElementsByTagName" width="100%" height="500″]
"Friends, if there was any doubt in anyone's minds that this was a political witch hunt, I think it's pretty clear right now. This has been going on for two years, dragging on and on, and here they come two weeks before an election and make these allegations," Hubbard said. "The fact is, we've done some great things in this state and some powerful people don't like it. Here in Lee County we've been very successful and created 3,000 new jobs and we have low unemployment. I tell you, I'm sleeping well tonight because I know the people of Lee County and this district are going to know this is politics at its worst."
Hubbard's arrest
Acting Attorney General W. Van Davis announced Speaker Hubbard's Monday afternoon for felony ethics violations. Hubbard, 52, surrendered to special agents of the Attorney General's Office at the Lee County Jail.
Hubbard was arrested as part of an ongoing investigation concerning potential public corruption in Alabama. He was indicted by a Lee County Special Grand Jury. Hubbard's charges include:
-Four counts of using his office as Chairman of the Alabama Republican Party for personal gain
-One count of voting for legislation with a conflict of interest
-Eleven counts of soliciting or receiving a thing of value from a lobbyist or principal
-Two counts of using his office as a member of the Alabama House of Representatives for personal gain
-Four Counts of lobbying an executive department or agency for a fee
-One count of using state equipment, materials, etc. for private gain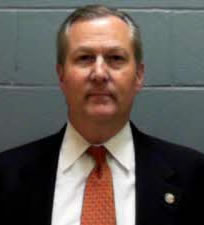 Read the indictment here.  If convicted, Speaker Hubbard faces two to 20 years in prison and up to $30,000 in fines for each count.
Hubbard bonded out of jail late Monday.  Hours later, he appeared at a candidate forum in Auburn, going up against his Democratic challenger Shirley-Scott Harris.  The topic of his arrest did not come up during the forum.
His attorney, Mark White, said he and his client are ready to put this behind them.
"We're comfortable and confident that the speaker is going to be totally vindicated and frankly we are thrilled," said White. "This is the first day, after two long years, that we can start to tell the true story about Mike Hubbard."
The two had visited the Lee County Sheriff's Office on Friday to prepare for a possible arrest, and provide paperwork so Hubbard could be released on bond as quickly as possible.
Others arrested in the ongoing investigation by the Attorney General's office include State Rep. Barry Moore, a Republican from Enterprise, and former Rep. Greg Wren, who represented Montgomery and Elmore counties.  Wren resigned as part of a plea agreement.