This is an archived article and the information in the article may be outdated. Please look at the time stamp on the story to see when it was last updated.
HUNTSVILLE, Ala. - The Rocket City has welcomed the top leaders of our country to Huntsville twice in the past several days. On Tuesday, a national cable morning show ate breakfast at a local favorite: Blue Plate Cafe.
Many in Huntsville know and love the restaurant's breakfast. On Tuesday morning, even Fox & Friends, the morning show on the Fox News channel, had their most important meal of the day there.
"Big Senate election down in the state of Alabama today and that is why right there in that left side of the screen you can see the Blue Plate Cafe in Huntsville, and that's where Todd's talking to the voters," the morning show's host said during a live broadcast.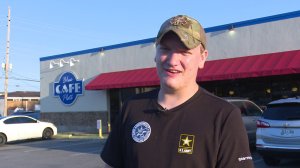 One of those voters is Colby Burns.
"I had no idea we were actually going to be on national TV," Burns said following his live interview on the morning show.
A national television debut is exciting for anyone, but Burns has even more thrills in his near future.
"This is my last week as a civilian until I go into the Army," Burns explained. "So, it's kind of like a bye week for me; I get to do stuff I really wanted to do."
One of those things is eating breakfast with his dad at the packed Blue Plate Cafe. His dad drove up from Birmingham while Burns came over from Morgan County.
Huntsville Mayor Tommy Battle also joined the crowd at Blue Plate. Between President Donald Trump, Vice President Mike Pence and now Fox News, the Rocket City has been ground zero for politics the past week.
"As all of this comes together, you get to tell the story of your city and the story of how great your city is," Mayor Tommy Battle said.