This is an archived article and the information in the article may be outdated. Please look at the time stamp on the story to see when it was last updated.
HUNTSVILLE, Ala. - With over 5,600 ballots counted, Frances Akridge has won the Huntsville City Council District 2 runoff election against Mary Jane Caylor.
Akridge defeated Caylor by a margin of a little over 1,000 votes.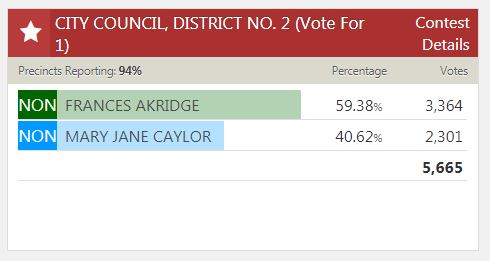 Akridge was less than one percent from winning the August 28 race outright.
Both candidates weren't sure what sort of turnout they'd see six weeks later as voters were asked to show up again and turn in a short ballot.
"It took me just under a minute," voter Steven Clontz said.
"Probably 12 to 14 seconds," voter Charles Hopkins said.
Voters who News 19 talked with said they had their minds made up following the August vote. The runoff gave Caylor six more weeks to knock on doors and secure a few more endorsements.
"I'd be telling a story if I said I wasn't a bit nervous and didn't have adrenaline pumping," Caylor said. "But I'll accept what the voters' will is."
Caylor formerly served as superintendent of Huntsville City Schools as well as serving on the BRAC Recruitment Committee.
Despite winning a comfortable majority in August, Akridge told her nearly 70 volunteers not to get comfortable as they canvassed District 2 seeking more support.
"We just reminded people that we can't take democracy for granted and so neither can we just take a vote for granted," Akridge said. "But they all have one thing in mind and that's to create a harmonious Huntsville and that's what we're going to deliver."
Caylor posted a message on her campaign Facebook page Tuesday night, saying in part to supporters, "It is with a heavy heart that I report it doesn't seem like we came up with as many votes as Ms. Akridge.  Thank you from the bottom of my heart. I will be forever moved by the encouragement of new friends I made along the campaign trail, and by the generous, exhaustive efforts put forth by close friends who I've been fortunate to know for many years."