This is an archived article and the information in the article may be outdated. Please look at the time stamp on the story to see when it was last updated.
AUBURN, Ala. (WHNT) - Alabama House Speaker Mike Hubbard continues to fight ethics charges levied against him by the state Attorney General's office. Tuesday, he and his lawyer, along with several of the state's political heavy hitters, held a spirited rally in Lee County complete with applause and campaign battle cries.
Supporters stood alongside Hubbard and others cheered from the audience.  Many wore "I Like Mike" stickers.  Many spoke in support of Speaker Hubbard, including his close personal friend U.S. Rep. Mike Rogers (R-Alabama.)
"When you do big things, you make enemies, and that's what's happened here," said Congressman Rogers. "This is political. If you had any doubt, the fact that it was dropped two weeks before the election should tell you."
Rogers and other supporters accused Attorney General Luther Strange of targeting Hubbard, essentially to get him out of the way for the 2018 governor's race.
"Who'd like to be governor in four years that would love to get Mike Hubbard out of the picture? That's where you're going to find your answer. It's not rocket science. I'll tell you what it is. It's Chicago-style gutter politics," Congressman Rogers added.
Here's photo of Mike Hubbard and wife, Susan, during the press conference in #Auburn pic.twitter.com/E5xXkzLvmX

— Drew Taylor (@MrDrew_Taylor) October 21, 2014
Hubbard was arrested Monday after an extensive investigation by Strange's office.  Among other things, the indictment accuses Hubbard of using his office as Speaker as well as State Representative for personal gain.  Strange has said he is not in charge of the investigation; he has appointed Acting Attorney General W. Van Davis to oversee the case.  However, Hubbard's attorney, Mark White, said Strange's involvement is very much in question.
"I can't figure out when Strange is the Attorney General and when he is not.  Some of the items that will be presented have to do with that very issue," said Mark White.  "Some days he says he's involved with the investigation and other days he's not.  It's what my grandson calls a 'hokey-pokey philosophy'. He wants to put his foot in some days, and other days, not."
North Alabama legislators present
Two legislators from north Alabama also stood alongside Speaker Hubbard.  State Representatives Mac McCutcheon and Mike Ball were there, and McCutcheon spoke to offer support.
"This may sound strange, but we're glad this day is here. Now we know the accusations that have been made and we can go to work on them," said McCutcheon.
"All of my colleagues stand firm, because when it comes to leadership, we have leadership with Speaker Mike Hubbard. We are going to stand with him," McCutcheon added.
AG Strange responds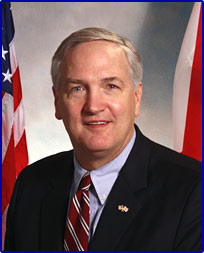 Attorney General Strange issued a statement late Tuesday in response to Speaker Hubbard's accusations.
"I made the decision to recuse myself from the matter involving Speaker Hubbard several months ago. I did so based on the recommendations of our career prosecutors and to completely remove any appearance of politics being involved in the matter.
I appointed respected supernumerary District Attorney Van Davis of St. Clair County to serve as acting attorney general and to handle this case. I have confidence in his ability to handle this matter fairly and completely without regard to politics. No one has questioned Mr. Davis' qualifications or his integrity.
Mr. Hubbard is entitled to the presumption of innocence and this matter will now be handled, as it should be, in the court system."