This is an archived article and the information in the article may be outdated. Please look at the time stamp on the story to see when it was last updated.
MADISON, Ala. (WHNT) - A political newcomer tossed his hat in the ring  hoping to become the next Mayor of Madison. Hanu Karlapalem says his goal is to make Madison the best little city in America.
"I'm running for Mayor of Madison."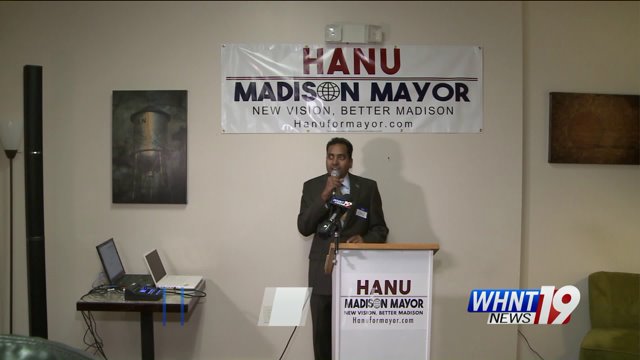 At a small coffee shop in Madison Wednesday evening, Hanu Karlapalem launched his campaign for mayor saying he would represent what he calls the melting pot that is Madison.
"I want to make sure that we sit on the path to become number one small city in America. That's the vision," says Hanu Karlapalem. He adds, "It's not going to happen in 4 years, or 8 years, or 12 years." But he says it can happen and he says his VALUE plan will start the city in that direction.
VALUE is an acronym for vision, accountability, leadership, unity and ethics. He says he would immediately address the issue of communication between the mayor and city council, and look for ways to improve Madison's traffic problems.
"Yeah, I would like to sit with all of our local partners, you know. That includes the leaders from other cities,  local, state officials, and we need to figure out how we can solve this," Karlapalem told WHNT News 19.
Karlapalem says his experience as a small businessman will help him guide the city forward.
Incumbent Madison Mayor Troy Trulock announced his bid for re-election last fall.
Read more about Karlapalem's campaign platform at hanuformayor.com.