This is an archived article and the information in the article may be outdated. Please look at the time stamp on the story to see when it was last updated.
HUNTSVILLE, Ala. (WHNT) - You might think campaign funds are for campaigning.  But the governor has other uses for them.
Gov. Robert Bentley used a campaign finance loophole to build himself a war chest for his second term, that he's spent on Rebekah Mason's communications firm, an attorney known in part for the high-profile corruption cases he's handled, and consulting.
You can trace the effort back to October 24, 2014: The governor has 12 days left in the campaign to win a second term.
THE LOAN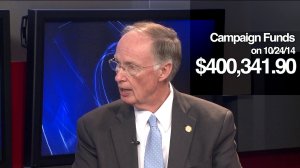 He has $400,341 left in his campaign fund.  With that balance, he can spend $33,361 every day until the election. An election he wins by 27 points.
All the same, on that day, the governor lends $500,000 to his campaign.
From that point until the election, he spends $288,726.62. He didn't need the borrowed funds to finish out the race.
So why go into so much debt?
Because it opens a loophole in the code.  The Chair of the House Ethics and Campaign Finance Committee, Rep. Mike Ball (R-Madison), explains, "There's a line in there that allows a candidate to raise money for a period of time, a few months, to retire debt that they may have incurred."
FILLING THE WAR CHEST
The governor sure can raise some cash.  He has 120 days after the election to raise money. In the month before that deadline, three months after his last election as governor, he pulls in $401,760 for his campaign, primarily from PACs and major companies.
He pays back his half-a-million dollars, squaring himself up, and leaving a war chest of $434,046.
But if the governor isn't running for office, why does his campaign need $434,000?
SPENDING THE CASH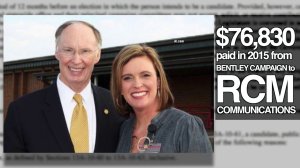 Campaign finance laws say you can spend it on costs related to your office.
For the governor, that means paying your Senior Policy Advisor, Rebekah Mason, the alleged object of the governor's extramarital affection.
In 2015, the governor uses his war chest to pay Rebekah Mason's communications company $76,830.70.
He also pays $24,758 to law firm Melton, Espy, and Williams. When we asked the governor's press office who currently speaks for the campaign, they pointed us to Joe Espy, who has handled a number of Alabama corruption cases.
All told, the governor's campaign spent $180,669 the year after his election. He ended 2015 with $346,905.
So is this the law working as intended?
Rep. Mike Ball, who did sign the Articles of Impeachment against Bentley, tells WHNT News 19, "I don't think it was intended for folks to be able to loan themselves large amounts of money and pay it back."
THE STATE OF THE WAR CHEST
Because it's not an election year, Bentley doesn't have to report his expenditures again until January 2017.
We reached out the governor's office, who pointed us to Joe Espy, trying to see if they might release the expenditures upon request. Espy has not responded.