This is an archived article and the information in the article may be outdated. Please look at the time stamp on the story to see when it was last updated.
FLORENCE, Ala. (WHNT) - God, guns, grits and gravy. That's how GOP presidential candidate Mike Huckabee explains southern voters in Alabama.
Huckabee addressed a full house of those voters in the Guillot University Center at the University of North Alabama Thursday morning, campaigning to be America's next president.
"I'm not interested in someone who can start a fight, I want to make sure we have somebody who can win the fight and finish the fight because that's not enough just to say we started it," Governor Huckabee said in his address.
Huckabee touched on issues from tax reform to poverty and job creation. At times, he tailored his address to students, touching on the collapsing economy and the lack of voting.
"If you're not voting, and you're not raising your voice, you have essentially agreed to anything we want to do," he said.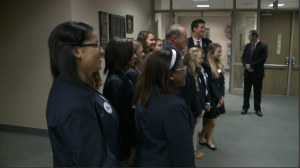 Student ambassadors from Florence High School and Florence Middle School lined the walls of the auditorium.  They were there experiencing a moment in Florence history.
"To hear Mr. Huckabee up close and hear what he has to think about the issues, it really helps me to think about the issues myself," said 17-year-old Chase Holcombe.
Holcombe is the youngest person ever to run for Florence City Council, so he was taking notes from Huckabee. Even younger, 13-year-old Lauren Womack was in the crowd representing Florence Middle School.
"I just thought it was really encouraging because he wanted us to grow up kind of how he did," Womack said. "But, you know, he wanted a better life for us."
From one southerner to another, Huckabee said it's stops like this that show what values truly matter to voters.
"The sense of being neighborly, truly caring about people. They are values worth preserving. I believe that people in places like Alabama, they want to be optimistic about their future and their children's future," said Huckabee.
"Even though I can't vote, I can make my voice heard and express my views to those who can vote and still make a difference," added Holcombe. "It's really important because these decisions that these people in political offices are going to make are going to affect not just 10 years down the road, 20 years down the road, but generations down the road."
Huckabee went on to address crowds in Sylacuaga, Selma and Dothan.