This is an archived article and the information in the article may be outdated. Please look at the time stamp on the story to see when it was last updated.
MADISON, Ala. (WHNT) – When Donald Trump turned on Celtic Drive to speak in front of thousands at the Madison City Schools stadium Sunday, everyone wasn't looking to support him.
Two groups stood at the intersection of Celtic Drive and Madison Boulevard.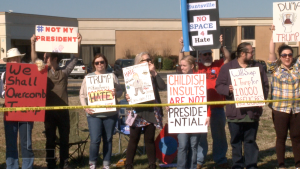 "We are protesting Donald Trump and his hate speech," said organizer Linda Haynes. "Not everybody here in Huntsville thinks the way Trump does.
Her group of proudly liberal protesters waved their signs at Trump supporters walking to the rally as well as buses shuttling more people.
Alabama Coalition for Immigrant Justice (ACIJ)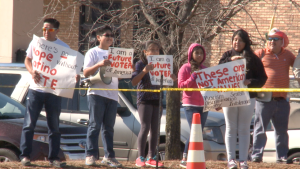 On the other side of Celtic Drive stood a group of proud Mexicans and Mexican-Americans pushing the Latino vote.
They chanted "Racism has got to go" and "This is what democracy looks like" to those walking past their group.
A woman stopped in front of them yelling "Deportation! You're illegal, you've invaded our country, you're invaders!"
A spokesperson for the group, a volunteer with ACIJ says Trump cannot exclude the Latino population and expect to be president in a nation that is too diverse for exclusion.
"What he's demonstrating is hate," explained Juanita Mendoza. "He's demonstrating that if it's not his color, he doesn't want to deal with it."
#VetsVsHate
Around the country, groups of veterans have been sporadically popping up at Trump rallies to protest his anti-Muslim rhetoric. The group, using the hashtag #VetsVsHate, also appeared in the audience here in Madison County.
When they held up signs, people covered them with Trump signs, and they were quickly forced out of the stadium.
"That says a lot, for a veteran to be booed by a nation full of 'patriots,'" said veteran Zach Choate.
The group came in two teams with two banners, one said 'We Stand with Our Muslim Brothers and
Sisters' and the other read 'Mr. Trump: Veterans Say End Hate Speech.'
Choate says he served with Muslims, and is convinced they are productive members of society and an asset to the American Armed Forces.
"It's common knowledge that your brothers and sisters that fight alongside you would lay down their life for you," he began. "I can definitely say the same about those that we're calling 'terrorists' here today."
Black Lives Matter: Huntsville HBCU students
A group of college kids from Huntsville's largest historically black college, Alabama A&M University, was in attendance, with a Black Lives Matter sign in tow.
"We thought it would be a positive thing to have our voices heard to see if he had anything to say about Black Lives Matter," said AAMU student Kerry Warren.
Instead, their poster was ripped by an audience member.
The students were escorted out, and held their fists in the air as they left.
Students from Oakwood University, the Rocket City's other HBCU, were also in the stands and say they were asked to leave as well.
"We experienced so much hatred and racism," said Warren. "They told us to 'clean toilets' and said we would never become anything."
All of the groups left peacefully.