This is an archived article and the information in the article may be outdated. Please look at the time stamp on the story to see when it was last updated.
How you have a baby is a big deal for many women and for some, there's no more appealing idea than skipping the hospital and giving birth in the comfort of home. That's where Certified Professional Midwives come in.
Hannah Ellis is an advocate for midwife-assisted home birth with Certified Professional Midwives – also known as CPMs. She traveled across state lines to have a home birth with her son and doesn't regret it at all. On the contrary, she was impressed with the support and well-rounded care she received.
"The midwife was there with me from start to finish. She never left my side," Ellis said.
At a typical home birth attended by a trained midwife, there will be a number of instruments to monitor vital health signs. There will also be resuscitation equipment for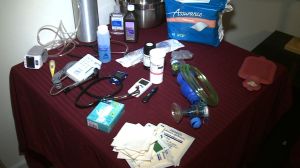 an emergency and covers to help protect bedding. The home bathroom will be sterilized and cleaned. Some moms will choose to labor in an inflatable birthing pool. The midwives will also often set-up candles and scented oils.
"When a mother is able to stay calm and feel safe and secure, she is going to make it through labor much easier with a lot less pain," explained Tori Dennis, a Certified Professional Midwife and registered nurse.
One goal for many women who choose this kind of birth experience, is to avoid C-sections and other common medical interventions in hospitals – things like routine inductions, epidurals and episiotomies. Some people consider these interventions overused and in many cases, unnecessary.
Having a home birth with midwife isn't easy for Tennessee Valley women though. Certified Professional Midwives are allowed to attend home births in states including Tennessee and Florida but risk prosecution for doing the same in Alabama – where it is illegal.
Dennis said it's a misconception that midwives are untrained and unskilled; "[We] have extensive schooling… and only accept low risk pregnancies." Dennis adds that CPMs also "collaborate with a physician so that we can transfer women" if a rare complication arises.
Huntsville's Courtney Buckley had her home birth in Tennessee since it was not an option in Alabama. She hated the driving but had a wonderful birth experience. She encourages anyone considering a home birth to interview prospective midwives extensively. Ask for credentials, certifications and complication rates.
"Go! Interview one," Buckley stressed, "If it's not for you that's fine, you can definitely go to an OB!"
Ellis agrees and as President of the Alabama Birth Coalition she's advocating for change in state law, "I'd like to see birth centers, home births and hospital births here and women freely able to choose within an integrated system."
Ellis argues the rural areas of Alabama in particular could benefit from trained midwives since as many as 36 counties lack comprehensive maternity care. Home birth can also be significantly cheaper than a hospital experience with midwives charging as low as two to five thousand dollars per delivery.
Click here to learn more about the Alabama Birth Coalition and its fight for change in Montgomery, as well as upcoming events.
Click here to learn more about CPMs, their mission and training.
If you missed any of our other Birth Options reports, you can watch them here!