This is an archived article and the information in the article may be outdated. Please look at the time stamp on the story to see when it was last updated.
MONTGOMERY, Ala. (WHNT) – There was no surprise Tuesday in Alabama's gubernatorial race.  Robert Bentley easily won re-election over Democratic opponent Parker Griffith.
At his victory celebration in Montgomery, Gov. Bentley thanked supporters, his family, his campaign staff for their tireless work.
"I love the people of this state. They've asked me to serve them and continue to be their governor. I'll work every day to earn their trust. God bless you all, and God bless this great state of Alabama," Bentley said.
Griffith's gathering was much calmer at Embassy Suites in Huntsville.
In "a very gracious conversation," Griffith spoke to Gov. Bentley tonight and said he ran a great campaign.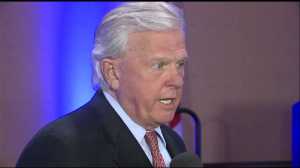 "Politics are tough, and sometimes you can take it personally, if your skin's a little thinner than it should be," Griffith said to WHNT News 19's Steve Johnson.
Griffith said he would have liked to debate Gov. Bentley.
As to the future, Griffith said he'll stay involved in politics.
"I'll definitely stay involved. I'll never not be involved," he said.
Check election results here as numbers come in.