This is an archived article and the information in the article may be outdated. Please look at the time stamp on the story to see when it was last updated.
MONTGOMERY, Ala. – Alabama House Ethics Committee Chairman Mike Ball said today he's not going to allow three proposed ethics bills to be addressed during the legislature's current special session.
Ball, R-Madison, told WHNT News 19 he wants to have an "open and honest" process that's "open to criticism and invites possible solutions."
Ball wants to establish a study committee to review the state's ethics laws and recommend improvements in time for the opening of the Alabama Legislature next year.
"Our best chance for success is for it to be carefully looked at, out in the open," he said.
Ball said he didn't want the ethics measures to get "lost in the mix" in the few remaining days of the special session.
Ball was set to hold a press conference on the subject beginning at 3 p.m. Thursday.
The bills include a proposal by Rep. Jim Patterson, R-Meridianville, that would end the $25 cap on gifts from students to teachers, as long as it doesn't require any action from the teacher.  It's House Bill 10 in the special session.
Representative Allen Treadaway, R-Birmingham, offered a bill that says if any member of the Legislature's leadership is indicted, they are suspended from that position – though not from serving as a legislator – while under indictment. Treadaway's bill is House Bill 11.
The third bill, offered by Rep. Isaac Whorton, R-Valley, would bar any person from registering as a lobbyist if they've been convicted of a felony in state court or federal court. Whorton's bill is House Bill 32. 
Ball said he realizes ethics reform is a political live wire and the process won't be easy.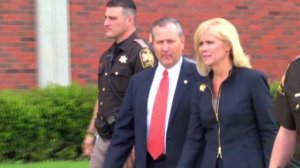 Former House Speaker Mike Hubbard was convicted of 12 state ethics violations in June and is facing a four-year prison term. Ball said the Legislature passed good ethics laws in 2010 during the special session, but the process was rushed.
"We have to find ways to insulate this from politics as much as possible," he said. "It's very difficult because it's such a hot button political issue. As long as there are humans, there will always be people that want to keep certain things hidden.
"A good law, while it ferrets out the guilty, it also protects the innocent."
Alabama Attorney General Luther Strange's office issued a statement Friday morning regarding Ball's call for a study committee.
"I am strongly opposed to Rep. Mike Ball's idea of a commission to review Alabama's ethics law. The whole point of such a commission would be to undermine the law.   Alabamians want our ethics laws enforced, not gutted," Strange said.
Opening up the debate over ethics laws can create a "frenzy," Ball said, adding that any effective measures will require collaboration.
"Politics can be very superficial," he said. "By superficial I mean we worry more about what people think about us, rather than who we are. And so much of politics is about perception, it's about looking right, rather than doing right.
"And you wind up with everybody trying to prove that they're more ethical than everybody else."