This is an archived article and the information in the article may be outdated. Please look at the time stamp on the story to see when it was last updated.
In a time where surveillance cameras are just about everywhere, the police sketch still exists. More departments are using software to do the job, but Alabama has a forensic composite artist. One who says computers cannot replace what he does.
His crime-solving tools are pencil and paper.
"This is the picture of a suspect we're looking for. Kidnapping, car theft armed robbery," said Special Agent Senior. Craig Shook, with the Alabama Law Enforcement Agency.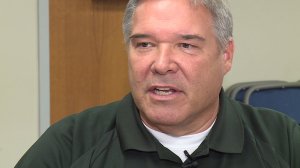 Shook works for the State Bureau of Investigation and is ALEA's only state-certified sketch artist.
"Believe it or not, I've always had an art background. I was a double art major in college," Shook said.
He travels the state, to police departments or sheriff's offices that need his skills. He helps identify people from grainy surveillance footage and eyewitness accounts.
"This was the picture of him shortly they apprehended him," said Shook. "See the eyes. The suspect himself also commented that it was a good picture."
He also draws age progressions and even skull reconstructions, to see what a person would have looked like based only on their skull.
"First question everybody always asks in, why isn't a computer doing it," Shook said.
He says computer programs can't do what he does. "Because they're going with a generic eye, nose, mouth ear. they can't do the subtle tweaks that make everybody individual or unique."
When you first sit down with a forensic composite artist, you would describe the person's height, weight, build, their hair color and any distinguishing traits. Then you'd flip through a binder of 60 pages of facial features. Characteristics like head shape, nose and mouth. And details like is the chin jutting, square, or double.
Drawing a composite sketch can takes hours, even days. We decided to put him to the test, describing a person we knew but he didn`t.
Agent Shook says the memory of the victim lasts the longest, but multiple accounts can paint a more detailed picture.
"Basically at the end, I'll have something close. You're never gonna have a portrait, but you're gonna have something that's recognizable and if you have a line up then you should be able to pick somebody out," he said.
We described one of our anchors. He used the same tools and techniques he would with a victim or witness of a crime.
He says his sketches have never led to a wrong arrest... The drawings are meant to rule suspects out and to give local authorities an idea of who to question.
"Everybody`s in this. You don`t have to be law enforcement," Shook said. "Anybody can help thwart crime.'
The talent of a sketch artist is more than pen to paper. They have to be strong interviewers, consoling to victims, keen listeners. Things he says computers simply can`t do.
ALEA and SBI offer composite sketch services to all law enforcement in the state of Alabama for free.