This is an archived article and the information in the article may be outdated. Please look at the time stamp on the story to see when it was last updated.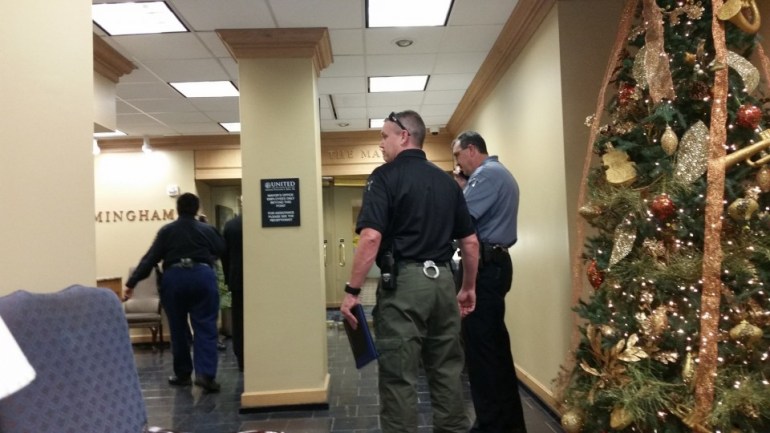 BIRMINGHAM, Ala. (WHNT) – Police in Birmingham are trying to sort out the details following an apparent altercation between two city leaders.  Both men have said they will press charges against the other — in fact, the city's mayor has already done so.
The fight involved Birmingham mayor William Bell and council member Marcus Lundy.  Our news partner AL.com's report cites officials who say a discussion between the two men became heated, leading to a physical altercation.
It started when the two men reportedly went into a back room to talk about a consultant. When the conversation became heated, the mayor tried to leave. At some point, Lundy allegedly put his hands around the mayor's neck and tried to pull him back, squeezing and leaving marks.
Birmingham Police Chief A.C. Roper said both men were taken to a hospital to be checked.
Tuesday afternoon, Mayor Bell filed a charge against Lundy for third-degree assault.  In the charge, officers stated in the account they were called to City Hall at 9:58 a.m. Tuesday, Dec. 15.  Mayor Bell said he asked to speak to Councilman Lundy about a city matter. The two stepped into a room behind the council chambers. Mayor Bell told the officer Lundy started to change the subject and talk to him about a personal issue.  Bell said Lundy started cursing loudly at that point, and Bell said he would no longer listen to him and was planning to leave.  Mayor Bell said as he turned to leave and grabbed the door, Lundy reached and pushed it closed.  Bell said he tried to leave by opening the door twice more, with Lundy pushing it closed.  Mayor Bell said Lundy grabbed him from behind and put him in a choke hold. The mayor said he told Lundy no, and to stop.  The mayor said two of Lundy's assistants, Jose Perry and Chris Mosley, witnesses, opened the door and got Councilman Lundy off of him. Perry and Mosely did not give witness statements until they talked with legal counsel.
Read the rest of Mayor Bell's account and more explanation of his injuries, as written by the police officer.
Mayor Bell's office says the mayor, 66, suffered a knee sprain, crushed vocal chord and a contusion. He will need rehabilitation for his knee injury.
City Council president fires back on Lundy's behalf
Birmingham City Council President Johnathan F. Austin said Lundy will press charges.  Austin spoke to reporters after the council meeting ended.
"What occurred at City Hall today is a direct reflection of the lack of respect towards the council and unwillingness to cooporate which has been ongoing for some time now," President Austin said. "We have worked continuously to move this city forward, and it's a sad day when council members are attacked while trying to do the job that they were elected to do."
Austin said Councilor Lundy was taken to a local hospital to be checked for injuries to his thigh and legs. Austin also released pictures of Lundy's injuries, including scrapes to the back of his leg.
[protected-iframe id="684c992e56afc49da517922f9ccba458-29519529-28568892″ info="http://abc3340.com/embed/news/local/birmingham-mayor-involved-in-little-bit-of-an-altercation-outside-council-meeting" width="640″ height="360″ frameborder="0″]