This is an archived article and the information in the article may be outdated. Please look at the time stamp on the story to see when it was last updated.
NASHVILLE, Tenn. (CNN) – Some pictures are worth a thousand words, some are priceless.  This photo of a young Tennessee couple reconnecting in the hospital after a crash on New Year's Day has gone viral.
Arika Stoval and her boyfriend, Hunter Hanks, were driving to Nashville from Jacksonville, Fla. when the couple's pickup veered in to a bridge support.
They can't remember what happened leading up to the accident, but photos of the accident show how the two narrowly escaped with their lives.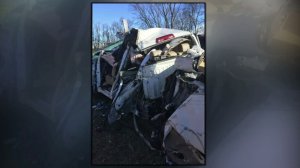 "I don't know how we lived through that," said Stovall.
The photo of that devastation isn't what is making the rounds on social media, though.  It is the photo of the pair reconnecting at the hospital that has touched the hearts of social media users.  In the picture, Hanks is leaning over Stovall, who is lying in a hospital bed.  They are smiling at each other despite being seriously injured.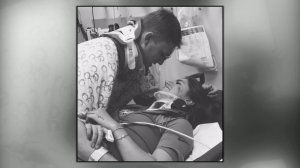 The photo has been shared more than 70,000 times.