This is an archived article and the information in the article may be outdated. Please look at the time stamp on the story to see when it was last updated.
MADISON COUNTY, Ala. (WHNT) – Overcrowded buses, lengthy commutes, and first graders riding the buses with high school seniors: These are just some of the transportation problems the Madison County school system faces.
"We run 219 buses over 10,000 miles a day," said Superintendent David Copeland. "We have one bus that we have some riders on there 75 minutes one way. That's 150 minutes a day on a bus."
The Madison County school district is in need of more than 10 new buses, but with a price tag of $2.5 million, it is not even an option.
During a Wednesday work session, a new transportation plan was presented to the board.
It comes as a result of this survey they sent out to parents in December, asking them what solutions they would like to see implemented to fix the district's transportation problem.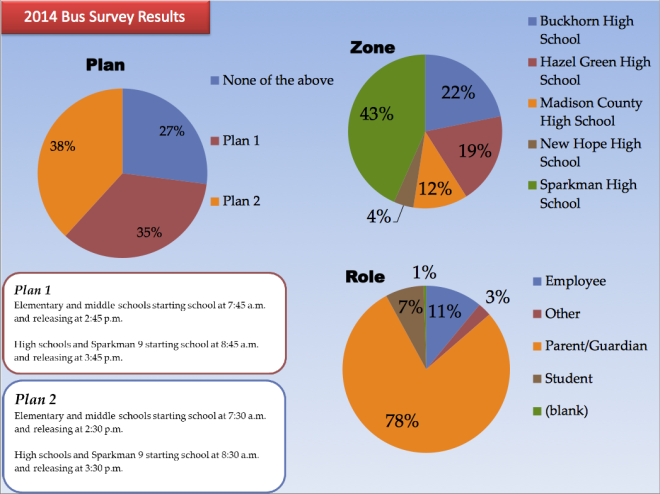 "What we're looking at doing is taking these routes and dividing them in half by doing a staggered start," explained Dan Evans, Director of Operations for the district.
The plan would change the start times for elementary, middle, and high schools.
Buses would carry K-8th grade students together, and high school students would ride separately.
"It's worth it for the safety and security of our children. That's the main issue," said Evans. "Sixty children on a bus in high school or middle school is too many children."
The plan is not cost-neutral. The district could see increased mileage costs, even with the state paying 80% of the costs.
But school officials say the savings come in other, just as valuable, ways.
"What it saves is the cost of buying new buses. What it saves is the time spent on the buses and I don't know how you put a price tag on that," said Copeland. "I think it certainly would help us academically and is much safer."
Copeland says he doesn't know when it will come up for public discussion or a vote. However, another board member urged her colleagues to get it on the agenda as soon as possible, so parents can start preparing for next year.