This is an archived article and the information in the article may be outdated. Please look at the time stamp on the story to see when it was last updated.
MORGAN COUNTY, Ala. – The Morgan County Sheriff's Office, along with the Alabama State Fire Marshal's Office continue to investigate an early morning house fire Tuesday that claimed the life of a mother.
Morgan County Coroner Jeff Chunn identified the woman as 32-year-old Kimberley Lamons. Authorities said Lamons died from smoke inhalation.
Calls came in around 2:30 a.m. of a house fire at the corner of Highway 67 and Apple Grove Road in the Joppa community. Morgan County Sheriff Ana Franklin confirmed that Lamons lived in the home with her mother and her 9-year-old daughter, Cynthia.
When firefighters arrived, they found the home engulfed in flames.
As they were working to put out the fire, officials said they found Lamons dead inside the home. Family members say that Kimberly and her mother made it out of the home, but realized Cynthia was still inside so she went back into the blaze.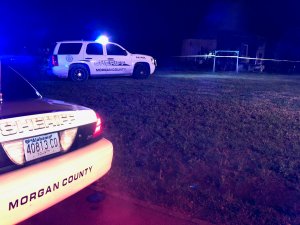 It took crews from Rock Creek and Tri-County about two hours to put out the flames.
The 9-year-old girl was transported to Huntsville Hospital for Women and Children but has since been released.
Authorities believe the cause of the fire is suspicious and are actively investigating it as arson and murder. Sheriff Franklin tells WHNT News 19 they have a person of interest who is in custody on unrelated charges. Capital murder charges could be brought against the person arrested if investigators determine the fire was set intentionally.