This is an archived article and the information in the article may be outdated. Please look at the time stamp on the story to see when it was last updated.

HAMILTON, Ala. (WHNT) – An old wives' tale says a spider found on your wedding dress blesses the union.  Now a new wife has a tale of her own to tell.
At the Hamilton Church of Christ on Saturday, bride-to-be Jessica was putting on her dress when she noticed the bag she took her slip out of, something had slithered into.
Tallie Johnson of Images by Tallie was Jessica's photographer.  She says she had stepped out of the room when the bride found the unwanted accessory.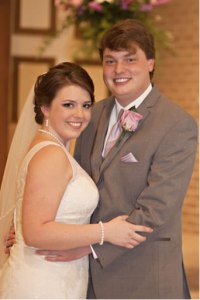 There was no snake handling going on at the Hamilton Church of Christ.  While many would lose their religion at the sight of a snake, Tallie said Jessica was calm, and used the same slip bag to trap the snake.
Tallie had to catch this memory too, and asked the bridesmaids to pose with Jessica and the uninvited guest.
It's not the memory Jessica and Levi Johnston were planning on, but one that makes their wedding day even more memorable.
Congratulations to the happy couple!
Photos: Images by Tallie (used with permission)